Skip to Content
Wood Fence Installation in Illinois
Few home features are as classic as wooden fences. Here at Paramount Fence, we create elegant wooden fences to fit your home's style. With over 50 years of combined experience, we know what it takes to create a fence that elevates and protects a home. We design, manufacture, and sell our fences to our valued customers all over the Chicagoland suburbs in Illinois, so you can expect quality every time. Our cedar wood fences are made to last, naturally resisting rot and decay.
With a variety of styles available, our team is happy to help you select a fence that perfectly fits your needs. The result will be a strong wooden fence that adds to your home's curb appeal.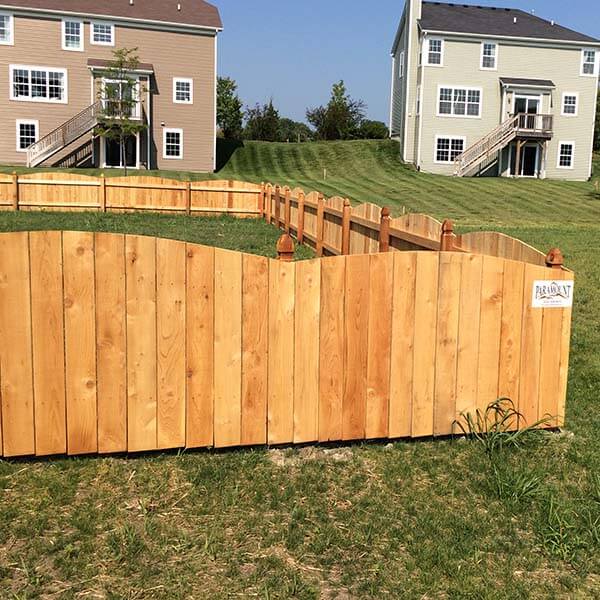 Solid Wooden Fences
Solid wooden fences are some of the most secure wooden designs we create. We create these fences to have boards that almost touch, offering optimal privacy for you and your family. For complete privacy, Board on Batten wood fences is the best option as they do not have any small gaps between boards. These fences are a great option for families with children and pets, as they completely enclose the yard. Our solid fences are available in the following styles:
Solid scalloped
Solid arched
Solid board on batten

(Completely solid, can be arched, scalloped, or with a capper board)

Solid dog ear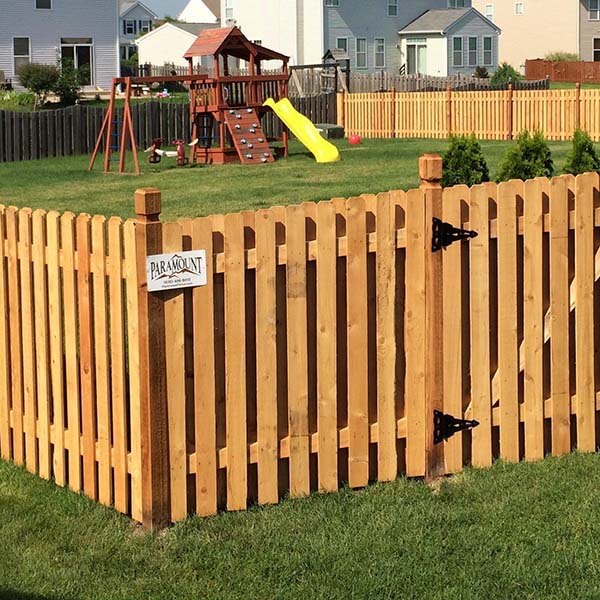 Shadowbox Wooden Fences
Similarly, wood shadowbox fences also offer high levels of security and privacy. We design these fences with alternating layers of boards, creating depth and design while still sealing your yard. These fences are an attractive option for backyards and are also called the "good neighbor fence" because they look the same on both sides. They are available in the following designs:
Shadowbox dog ear
Shadowbox scalloped
Shadowbox arched
Shadowbox with capper board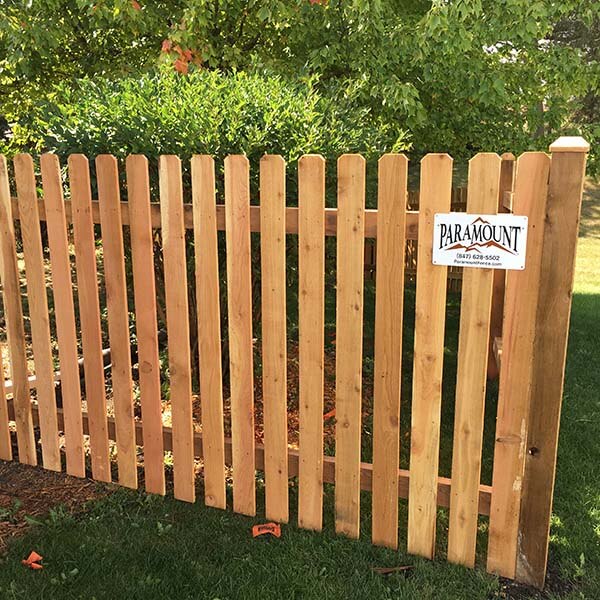 Wooden Picket Fences
Wood picket fences are an American classic and an elegant way to add charm to your house. The team at Paramount Fence puts thought into each picket fence design, creating innovative twists on classic designs. Whether you prefer a more traditional look or French gothic posts, we have a fence that creates the look you want. Wood picket fences are a great option for front and back yards. Our wooden picket fences are available in these unique styles:
Traditional spaced picket
Spaced picket dog ear
Spaced picket arched
Spaced picket scalloped
Spaced picket flat top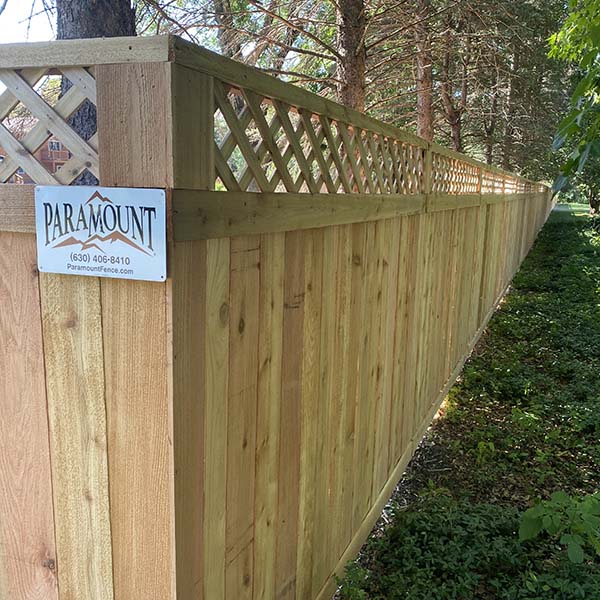 Wooden Traditional Fences
For our customers looking for a simple and classic look, our wooden traditional designs are a great option. These fences look the same on the outside and inside of the fence, which fits well with any home style. Whether you prefer the simple solid or spaced styles, or a design with a decorative lattice, our professionals can work with you to select your dream fence. Homeowners interested in our traditional options should consider these designs:
Spaced picket traditional
Traditional solid
Traditional with lattice
Traditional solid with arbor
Traditional solid with vertical lattice
Split Rail Fence
Browse Our Wooden Fence Projects
If you have any questions or would like to schedule a free estimate, you can contact Paramount Fence at 630-406-8410, or you can send a request by email to info@paramountfence.com. You can also fill out the form on this page and one of our experienced representatives will get back to you shortly.
Please Complete the Form Below
One of our representatives will contact you regarding your inquiry.
Find a Fencing Solution to Fit Your Budget