Skip to Content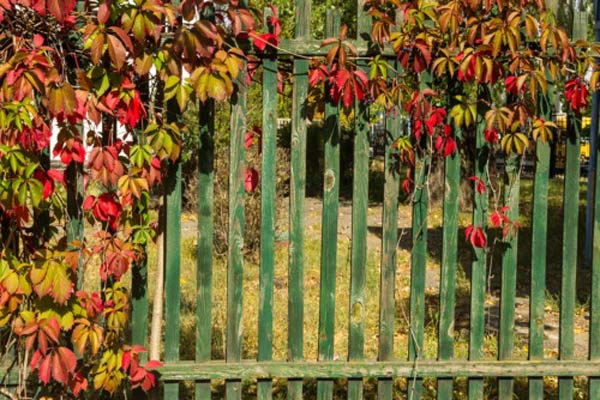 One of the most charming things about fall is how well the season lends itself to decorations. You may have decorated your porch and hung a wreath on your door, but have you considered sprucing up your fence? If you've got a wooden fence, it's easy to decorate it for the fall. While you're doing routine maintenance, why not have some fun and make it festive?
Flower baskets are a great way to add some color to your fence. Fall brings many beautiful blooms, and hanging flower baskets are a wonderful way to showcase them. Feel free to get creative, choosing flowers in shades of yellow, orange, and red, and using different interesting containers to hang them. Any container can house your fall flowers, as long as there are holes in the bottom for drainage.
Climbing plants are a natural way to beautify your fence. You can achieve many different looks with climbing plants, by choosing different types of plants. Ivy can be stunning on a white or natural colored fence, and flowers like clematis and morning glory add a lovely touch. Trumpet creepers have orange and scarlet flowers that attract hummingbirds, and wild passion flowers will bring butterflies to your yard. It's easy to induce vines to climb your wooden fence: just attach one end of a string to a stake in the ground and the other to the top of the fence, to give the plants something easy to climb.
Add some elegance with metal finials. Just about any wooden fence can be improved with metal finials, and they're available in a wide variety of patterns and metals. They look especially striking on a fence with scalloped edges.
Draw birds or butterflies to your fence for natural charm. In addition to flowering vines, there are many different plants you can place in a garden along your fence to attract butterflies. Ask your local garden center for plants with nectar that draws butterflies, like goldenrod and daylilies. Another fun idea is to add birdhouses to your fence, bringing birdsongs close to your home. You can paint the birdhouses in any way that complements your style, whether that's whimsical, sophisticated, or something in between.
Your wooden fence should last for many years, but when you're ready for a new fence, call Paramount Fence for professional installation. At Paramount, we've been in business for over ten years, but our combined experience in the fence industry spans more than half a century! We're a full-service fence sales and fence installation business in the Chicagoland area, and we're dedicated to providing creative and affordable solutions that address our clients' needs and fulfill their requests. Our staff offers exceptional customer service, striving to exceed your expectations throughout the fence buying and fence installation process. We provide high-quality, beautiful fences, and our reputation for excellence is well-established. Paramount Fence is a member of the American Fence Association and a registered member of the Better Business Bureau. For more information on how we can help you find the right fence to meet your needs, call us at 630-239-2714 or contact us through our website.