Skip to Content
Finding Ideas and Inspiration for Your New Fence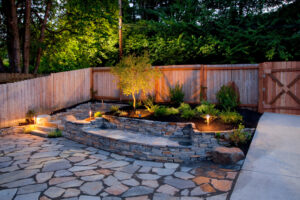 Are you considering a residential fence but aren't sure what type you want to install? Today's homeowners are blessed with near limitless options for fencing. Where will you find your inspiration? Use your imagination and give some thought to your personal aesthetic preferences and the reasons you want or need a fence.
What's your reason for putting up a fence? Maybe you're trying to gain some privacy in the backyard, or maybe you're just trying to contain dogs or kids. You might want a fence that's primarily decorative, or you might need one for security. Whatever your reason, you've got plenty of options.
Think about your personal style. Would you prefer and ornamental fence made of metal or a wood fence? Maybe you've got simple tastes and will be perfectly happy with a chain link fence, or perhaps you've been dreaming of surrounding your home with a white picket fence. Whatever your preferences may be, there are options available through your local fence company that will fit the bill.
Consider the pros and cons of different types of fencing.

A wood fence is classic and versatile. Wood fence installation is affordable, and wooden fencing comes in many different styles. Picket fences are charming, though not a good choice if you want privacy. Rail and post fences have a rustic look, latticed, fences are attractive options. Shadowbox fences are semi-private and a great option for a windy area, because they allow wind to pass through without knocking down the fence. Wood fences can be as tall or short as you'd prefer, and they're fairly low maintenance, though they will eventually degrade and need to be replaced.
A vinyl fence is durable and low-maintenance. Throughout all kinds of weather, vinyl fencing stays attractive, requiring only occasional pressure washing to stay in good shape. Also called a PVC fence, it has a smooth, uniform finish and can be accessorized with elements like decorative post caps and lattice work. This kind of fencing is a little more expensive than wood and chain link, and needs to be professionally installed for best results.
A chain link fence is a sturdy, inexpensive option. This kind of fence is great for containing pets and small children, and if you prefer good visibility to privacy, it's a good option. Chain link is not beautiful, but it can be decorated in a variety of styles to make it truly your own, if you prefer. You can weave vinyl strips through it, use it to trellis vines, or hang birdhouses on it.
An ornamental fence gives an elegant look to the property while providing security. Because it's made of metal, it's sturdy, rust-resistant, and unlikely to degrade or decay. It's more expensive than some other types, but can be quite beautiful while also deterring theft.
Need some inspiration? Check out our gallery for a look at some of the beautiful fences you could have installed. Whichever style you choose, when it's time for a new fence, call Paramount Fence for professional installation. We're a full-service fencing company in the Chicagoland area, proudly serving the following counties in Illinois: Kane, DuPage, Kendall, DeKalb, McHenry, and parts of Cook, Will and Lake. With more than half a century of combined experience, we're dedicated to providing creative and affordable solutions that address our clients' needs and fulfill their requests. Paramount Fence is a member of the American Fence Association and a registered member of the Better Business Bureau. For more information, call us at 630.239.2714 or contact us through our website.