Skip to Content
How You Can Plant Blueberries Near a Fence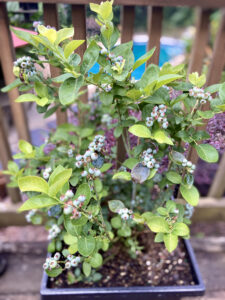 A hedge can look delightful growing against a residential fence, but it's even better when the shrubbery in question produces food. While edible plants aren't always ornamental, blueberry bushes are a notable exception. With their small, oval leaves, delicate, fragrant blossoms, and delicious fruit, they make the perfect ornamental shrub for your garden. Against a fence, blueberries can climb, creating a beautiful look for your boundary and making any fence an ornamental fence.
Some species of blueberries are self-fertile. Most types, though, are more productive when they're cross-pollinated with a different variety. Choose two or more different types of blueberry plants that are similar in height and growth pattern and alternate them along your fence.
Blueberry bushes aren't picky, but they are vulnerable to pests and disease. To keep them healthy, give them a good start by enhancing the soil to ensure that it's moist, rich, acidic, and well-draining. Incorporate 3 inches of compost or soil conditioner into your planting area, and plant blueberries at least 6 inches deep. Once they're planted, cover the whole planting area with 6 inches of mulch. Pine straw works well as a mulch for berry plants, and wood chips make a good second choice.
Blueberries need plenty of direct sunlight. Plant in an area with at least 5 to 6 hours of direct sun each day, and you'll have a beautiful hedge that works as a foundation plant or simply a way to soften the fence line. Be aware that you'll be sharing your berries with the birds, so plant twice as many as you think you'll need.
A chain link fence is the obvious choice for growing blueberries, but other fence types will work as well. A vinyl fence (also called a PVC fence) may not provide the optimal surface for vines, blueberries don't need much support to grow beautifully against a fence. An ornamental or wood fence can be a great option for blueberries and other plants, but you may want to discuss this with your fence company representative during wood fence installation, since plants can sometimes be detrimental to wooden surfaces.
Enjoy your berries! You can freeze blueberries for later use, or use them immediately, either eating them straight out of the garden, tossing them into salads, decorating your desserts, or baking them into muffins and pies. Let's not forget, blueberry pancakes are virtually irresistible!
When it's time for a new fence, call Paramount Fence for professional installation. We're a full-service fencing company in the Chicagoland area, proudly serving the following counties in Illinois: Kane, DuPage, Kendall, DeKalb, McHenry, and parts of Cook, Will and Lake. With more than half a century of combined experience, we're dedicated to providing creative and affordable solutions that address our clients' needs and fulfill their requests. Paramount Fence is a member of the American Fence Association and a registered member of the Better Business Bureau. For more information, call us at 630.239.2714 or contact us through our website.