Skip to Content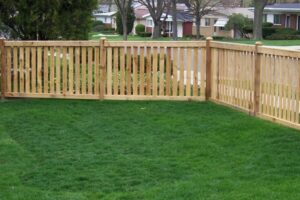 When most of us think of the word "aluminum," we don't automatically think of "fence." If anything, we're more likely to associate it with the foil we wrap our kids' lunch sandwiches in. But an aluminum fence is one of the best home or business investments you can make!
Aluminum fences are durable, attractive, quick to install, and relatively low-maintenance. Best of all, they're versatile in their uses. Their chief advantages include:
Safety: An unguarded swimming pool can be a menace to children or pets. Investing in an aluminum fence is a smart way to ensure that no unsupervised visitors wander into your pool area. You can also use them to provide a guard rail for balconies or stairways to ward off potential accidents.
Appearance: Let's face it: aluminum fences look impressive, and an attractive fence will increase the ultimate value of your property over time. They're available in a variety of colors and styles, so you can customize them to match the style of your home or business.
Discourage Theft: Aluminum fences are also a good way to contain a home and discourage would-be burglars. They won't radically change the appearance of your property, but they'll ensure that you feel safer when you're there.
Saving Money: Worried about cost? Don't fret. An aluminum fence will cost more than other types of fences at first, but it will end up saving you money in the long run. A wood fence or vinyl fence will require regular upkeep, but aluminum fences require very little maintenance, leaving you free to enjoy your (safer, better-looking) property.
Why not start planning your new fence today? Paramount Fence will set you up with a free in-home estimate. They only use the highest quality materials, so your aluminum fence will be sturdy and long-lasting. Their trained and licensed experts will be happy to answer any questions you may have as you prepare to install your aluminum fence.