Skip to Content
Add Security and Visibility to Your Home With a Chain Link Fence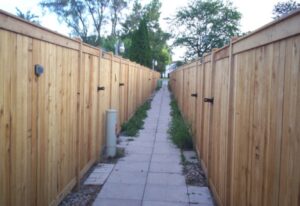 Building a fence in your yard is perhaps the best way to distinguish your own property from your neighbors'. However, not everyone has the money to install an elegant wrought-iron fence; that's why many of us opt for more affordable chain link fences. Still, chain link fences offer a lot more than affordability. Read on to learn what a chain link fence can bring to your property:
Enhanced Security
Without a fence on your property, thieves and criminals may feel more inclined to trespass. If your property has a chain link fence, however, these same criminals may think again. Though a chain link fence won't guarantee your safety, it adds an extra layer of protection between you and desperate criminals.
Impressive Durability
One advantage of a chain-link fence is that they last practically forever. Galvanized, aluminized, and vinyl-coated chain-link fences are especially durable and require very little maintenance. If your chain link fence is installed correctly, you likely won't need to replace it during your lifetime.
Pet and Child Protection
Though chain link fences are great at keeping things out, they're just as good at keeping things in. If you have particularly adventurous pets or children, you can see why this is a good thing. By installing a chain link fence in your yard, you can allow your pets and children to have free range of your yard with minimal supervision.
Attractive Colors
When most people think of chain link fences, they imagine a dreary, gray color. Paramount Fence offers attractive black, brown, and green fences to give your property a little more cheer. If you prefer the grey, galvanized look, you'll be pleased to know that we offer that, too.
If you think that your yard would benefit from an attractive chain link fence, contact Paramount Fence in Chicagoland today. In addition to chain link fences, we also offer wood, aluminum, and vinyl fences of all shapes and colors. Call us today at 630-239-2714, and take one step closer to a beautiful, more secure property.