Skip to Content
Metal fencing is available in a number of different forms that combine durability, functionality, and aesthetic appeal. Chain link, aluminum, and steel fencing are three popular choices that offer unique benefits for residential or commercial fences.
Chain Link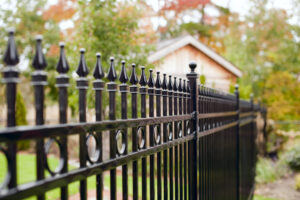 One of the most popular types of metal fencing is chain link. These fences are made from interwoven steel wire and can create a sturdy barrier that's difficult to breach. Chain link fences are commonly used in residential yards, parks, playgrounds, and sports fields. The open design of chain link fencing allows for airflow and natural light, making it an obvious choice for areas where visibility is desired. Another benefit of chain link fencing is that it requires little maintenance. Chain link is available in both galvanized steel and vinyl coated steel for added protection from the elements.
Aluminum Fencing
Aluminum fencing is a good choice for folks looking for a durable and low maintenance fencing option. One of the key advantages of aluminum fencing is its exceptional resistance to rust and corrosion, making it suitable for any climate. Aluminum fencing is available in a wide range of styles and colors, allowing homeowners the ability to customize their fence to match their home's aesthetics. Aluminum fences require little maintenance, typically only needing an occasional cleaning to maintain their beautiful appearance.
Steel Fencing
Steel fencing is known for its strength and durability, making it a good choice for areas that require additional security. Steel fencing provides a sturdy barrier that can withstand harsh weather conditions while deterring unauthorized access. Like aluminum fencing, steel fencing is available in different styles and colors so that homeowner can select a style that suits their preferences. With its combination of strength, durability, and versatility, steel fencing is a solid and secure solution for enhancing property boundaries.
Ornamental Fencing
Ornamental steel or aluminum fencing both offer options in height, decorative finials, and gate styles. Depending on the level of security needed, both options can be further enhanced by adding features like self-closing gates, locks, or anti-climbing features.
When you're ready to install a new fence, or for any questions or concerns about fencing, check with the professionals at Paramount Fence. We have over 100 years of combined experience in providing our customers with the highest quality fencing products. We are a locally owned and operated fence company in the Fox Valley area servicing the Chicagoland Suburbs. We understand that each client is unique, and our fencing experts will work with you to ensure that you are provided with a fence that satisfies your needs for years to come.
We strive to provide excellent customer service, which is why we are members of the American Fence Association and the Better Business Bureau (BBB). In fact, we have one of the highest customer service ratings with the Better Business Bureau in the area. For more information, visit our website or speak with us at 630-239-2714.