Skip to Content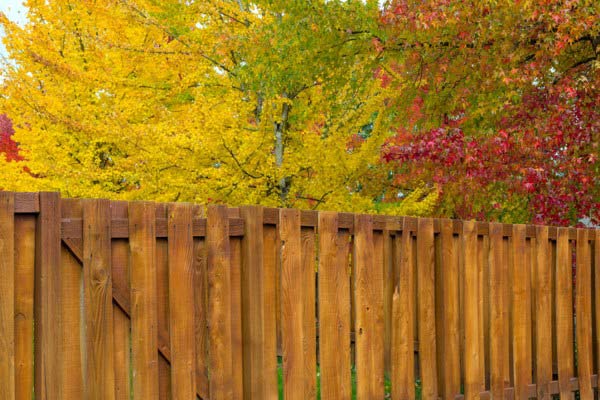 Summer is almost over- is your fence ready for fall? Many of us take our fences for granted, but they need a little extra care as cooler weather approaches. Especially if you have a wooden, fence, it's time to clean it up, shore it up, and make sure it's ready to face the elements throughout the fall and winter.
Clean around the fence. Get rid of any leaves or debris that's hanging out around your fence posts. During the fall, make sure to keep your leaves raked away from your fence. If you let debris and leaves build up around your fence or in between the posts, it can trap moisture and eventually lead to rot.
Get rid of any vegetation that could endanger your fence. Trim low-hanging branches that could fall during winter storms and damage your fence. Ivy, too, should be trimmed away from your fence, so that it doesn't pull at it and weaken it.
Make any necessary repairs. Inspect your fence carefully, looking for weak spots like damaged pickets, nails that stick out, decay in the posts, and so on. Fix these issues before the winter weather hits, and your fence will be better able to stand up to the elements.
Clean the fence itself. If it's not too dirty, you may be able to clean it with mild detergent, a scrub brush, and a garden hose. If you notice mold or mildew, use a solution of three parts water and one part oxygen bleach, applying it with a garden sprayer and rinsing with water.
Make sure your fence is waterproof. Once your fence is clean and dry, waterproof it with a sealant, oil-based stain, or waterproof paint. This will protect it from winter storms that can soak the wood, leaving a fence weakened and at risk of decay. What's more, a newly painted or stained fence adds a fresh look to your backyard.
A well-maintained fence should last for many years, but when you're ready for a new fence, call Paramount Fence for professional installation. At Paramount, we've been in business for over ten years, but our combined experience in the fence industry spans more than half a century! We're a full-service fence sales and fence installation business in the Chicagoland area, and we're dedicated to providing creative and affordable solutions that address our clients' needs and fulfill their requests. Our staff offers exceptional customer service, striving to exceed your expectations throughout the fence buying and fence installation process. We provide high-quality, beautiful fences, and our reputation for excellence is well-established. Paramount Fence is a member of the American Fence Association and a registered member of the Better Business Bureau. For more information on how we can help you find the right fence to meet your needs, call us at 630-239-2714 or contact us through our website.