Skip to Content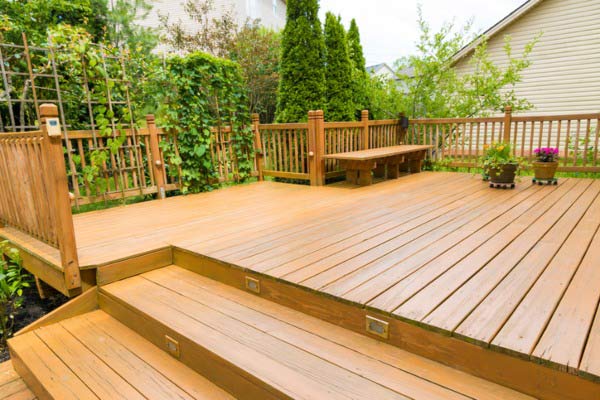 Summer's almost over, but there's still time to squeeze in one more summer deck party. Fire up the grill one last time, have some friends and neighbors over, and make it the best backyard party you've ever had. Need some help? We've got some tips.
The food's the central focus. It doesn't have to be fancy; some of the best parties have the simplest menus. You can have a barbecue or shish-kabobs, or you can make sandwiches or taco salad. You might ask the guests to bring side dishes. Getting people involved that way lets them feel involved, gives them a chance to bring their signature dishes, and takes some of the pressure off the host. If you really love to cook, feel free to choose one showstopper of a dish to put on your menu and wow your guests.
Extra touches will make your party extra special. Make a party playlist to set the tone and keep the party moving. Think about the mood you want your party to have, and then fill your playlist with tunes you know people will recognize and enjoy. Play it low, so it doesn't interrupt conversations or make guests strain to hear and be heard. You might also think about activities, like bocce or horseshoes. Are kids coming? Plan to set out a few things to occupy them, like nerf balls, sidewalk chalk, and badminton.
The best deck party deserves the perfect setting. Look at your backyard with a critical eye. Does the deck need re-staining? Does the fence need repairs? Are there things in the yard that should be put away before guests arrive? Start with a clean canvas, and then do some fun decorating. Use some color to make it festive, and consider stringing up some lights. Do you have a water feature, like a pool, pond or fountain? That's the perfect place to put floating lights, to make the party more visually interesting. Most importantly, make sure there's plenty of comfortable seating. If you don't have enough lawn furniture, consider renting some extra chairs to make sure everyone has a place to sit.
Is your backyard the perfect hangout spot? If you're ready for a new fence, call Paramount Fence for professional installation. At Paramount, we've been in business for over ten years, but our combined experience in the fence industry spans more than half a century! We're a full-service fence sales and fence installation business in the Chicagoland area, and we're dedicated to providing creative and affordable solutions that address our clients' needs and fulfill their requests. Our staff offers exceptional customer service, striving to exceed your expectations throughout the fence buying and fence installation process. We provide high-quality, beautiful fences, and our reputation for excellence is well-established. Paramount Fence is a member of the American Fence Association and a registered member of the Better Business Bureau. For more information on how we can help you find the right fence to meet your needs, call us at 630-239-2714 or contact us through our website.