Skip to Content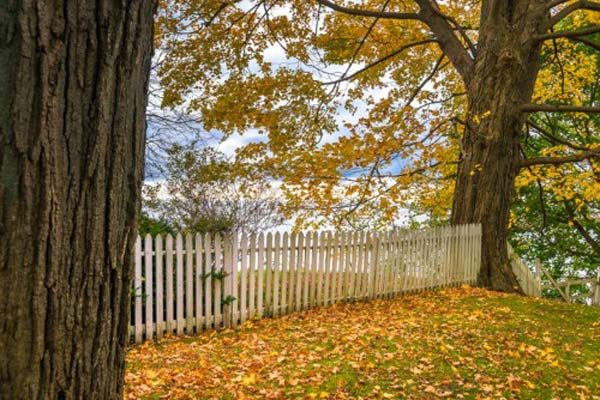 Fall is upon us, which means it's time to give your fence a little bit of extra attention. When autumn arrives, winter is not far behind, bringing punishing weather that can be hard on a fence that's not well-maintained. Especially if your fence is old or if you have a wooden fence, it's important to be proactive in getting it ready to stand up to whatever comes its way.
Clear the way to care for your fence. Remove anything leaning or hanging on the fence, like lawn furniture, tiki torches, or birdhouses. Trim branches that may be overhanging it, and any shrubbery that's growing too close to the fence. Rake fall leaves away from your fence to prevent damage from mold, mildew, and rot, and never pile leaves against the fence.
Give the fence a thorough inspection. Walk the entire length of the fence, paying special attention to areas that might be hidden by structures or landscaping. Make note of missing boards, knots or holes in the wood, instability, insect damage, or rot. Once you've inspected it, repair any damage before winter weather sets in.
Patch any holes found during the inspection. Use wood putty to keep the damage from becoming worse, because if you don't repair the holes, you're inviting insects and moisture to take up residence and cause real harm. If the holes are too large for wood putty, consider a patch made from another piece of wood (this is called a Dutchman) or replace the boards entirely.
Seal and waterproof the fence to keep it protected. Periodically test your fence to make sure it's still waterproof. You can do this by splashing some water on it to see if the water beads on the surface: if it does, the fence is waterproof, but if it soaks in and makes the wood darker, it's time for a new coat of stain or sealant. As a general rule of thumb, fences should be re-sealed every two to three years, with a new coat of waterproof stain.
A well-maintained fence should last for many years, but when you're ready for a new fence, call Paramount Fence for professional installation. At Paramount, we've been in business for over ten years, but our combined experience in the fence industry spans more than half a century! We're a full-service fence sales and fence installation business in the Chicagoland area, and we're dedicated to providing creative and affordable solutions that address our clients' needs and fulfill their requests. Our staff offers exceptional customer service, striving to exceed your expectations throughout the fence buying and fence installation process. We provide high-quality, beautiful fences, and our reputation for excellence is well-established. Paramount Fence is a member of the American Fence Association and a registered member of the Better Business Bureau. For more information on how we can help you find the right fence to meet your needs, call us at 630-239-2714 or contact us through our website.