Skip to Content
Maintaining your fence is crucial to keeping your yard safe and attractive. If your fence is showing its age, or if parts of it are missing, fading, or rotting, it may be time to replace it.  However, if you're not quite ready to give up on your existing fence, you can try to restore it. Since restoring will be the less costly option, let's take a look at how you could rehab your fence. The tools and techniques you'll need to use depend on what type of fence you have.
Wooden Fences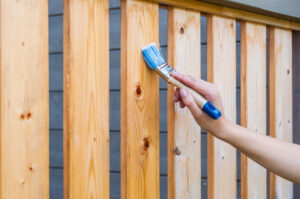 Wood fences are relatively inexpensive and provide safety and security, but they require regular maintenance and occasional restoration. Here are the steps to restoring your wood fence.
First, take a look at the fence and repair any damage to the posts or wood pickets. Replace any damaged boards and reattach loose boards.
If needed, repair, tighten or replace gate hardware
Use a power washer to remove any dirt, debris, bird droppings, lichen, or mold.
If your fence is stained or painted, you may need to reapply the finish. Sand your fence lightly so that the paint or stain will adhere to the wood.
Aluminum Fences
Aluminum fences are attractive and can last for many years with little maintenance, but if yours needs sprucing up, here's how.
Start by rinsing the fence with a garden hose.( A power washer may be too harsh for the aluminum).
Mix a solution of vinegar and water and apply it to the fence using a non-abrasive sponge or cloth.
Finish up by rinsing again with clear water.
Vinyl Fences
Vinyl fences are very easy to maintain and repair if needed. Here's how to restore your vinyl fence.
Rinse the fence gently to start the process.
Use a power washer to remove most stains, dirt, or debris.
For tough stains, use a magic eraser and rub gently.
If desired, you can use a vinegar and water solution like that used on an aluminum fence.
Final Words
Keeping your fence is good shape requires periodic maintenance. By spending a bit of time tending to your fence on a regular basis, you should be able to extend its lifetime.
If your fence has seen better days, and you're interested in replacing it, check with the professionals at Paramount Fence. We have over 100 years of combined experience in providing our customers with the highest quality fencing products. We are a locally owned and operated fence company in the Fox Valley area servicing the Chicagoland Suburbs. We understand that each client is unique, and our fencing experts will work with you to ensure that you are provided with a fence that satisfies your needs for years to come.
We strive to provide excellent customer service, which is why we are members of the American Fence Association and the Better Business Bureau (BBB). In fact, we have one of the highest customer service ratings with the Better Business Bureau in the area. For more information, visit our website or speak with us at 630-239-2714.