Skip to Content
Maintaining Your Wood Fence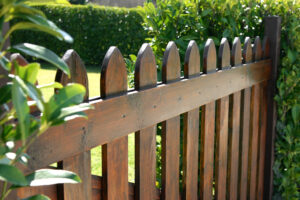 Wood fencing is extremely popular, and with good reason. Attractive and durable, they come in a wide variety of styles to appeal to every aesthetic preference. To keep your residential wood fence looking good though, you'll need to do some maintenance from time to time. Here we offer some maintenance tips to help keep your fence looking its best and maybe even expand its lifespan.
Regularly check your fence for damage. A residential fence takes plenty of punishment, from the weather, but also from sprinklers, animals, and the normal wear and tear of use. Walk the length of your fence on a regular basis, looking for problems that need your attention. Warped or leaning posts or panels, nails jutting out as well as loose or missing nails, rotten boards and other issues should be corrected immediately.
Clean your fence carefully. Use a high-quality cleaning solution made for wood fences to clear away dirt and stains, rinsing it away with a pressure washer. Don't allow leaves and debris to build up, because this creates dirt and moisture accumulation that can result in rot, mold, and mildew.
Handle mold and fungus. If mold, mildew, and other fungi do begin to grow on your fence, use an appropriate removal product. This kind of growth not only detracts from the look of your fence, but can also weaken the wood over time. If there's severe rot, replace the panel, and make sure to treat parts of the fence that touch the ground with wood preservative.
Give your fence an occasional refresh. One of the best things you can do to preserve your wood fence is to stain it. While paint sits on the surface of wood, stain sinks in and offers penetrating protection while allowing the wood's natural beauty to shine. If you notice beginning to soak into the wood instead of beading on the surface, it's a sign that the stain needs to be refreshed. To further protect against the elements, seal the posts or panels once a year, then add stain. Be careful, though, to only apply protective coatings when the fence is completely dry.
Protect your fence from harm. You can unwittingly damage your fence if you're not careful. Make sure you don't have any sprinklers that spray the wood, and keep plants and mulch away from the base of the fence, to keep it from rotting.
When it's time for a new fence, call Paramount Fence for professional installation. We're a full-service fencing company in the Chicagoland area, proudly serving the following counties in Illinois: Kane, DuPage, Kendall, DeKalb, McHenry, and parts of Cook, Will and Lake. With more than half a century of combined experience, we're dedicated to providing creative and affordable solutions that address our clients' needs and fulfill their requests. Paramount Fence is a member of the American Fence Association and a registered member of the Better Business Bureau. For more information, call us at 630.239.2714 or contact us through our website.