Skip to Content
Selecting a Fence Material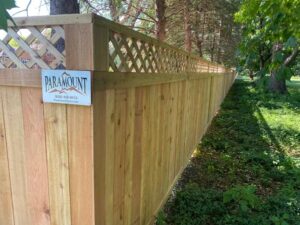 When you move into a new home, minor changes make the home uniquely yours. Repainting a wall here, hanging family pictures there-and then you have lawn work to make the exterior of your home fit your family's aesthetics.
As you set out to make your home more beautiful and more secure, you might consider installing or updating the home's fence. Different fencing materials offer different benefits to your home's architectural appeal.
Before you start shopping for your fence, make sure you research neighborhood association restrictions. Not following their guidelines could cost you in fines, and you may have to change your fence to comply.
Another factor you may want to take into consideration is maintenance.  Just like there's no free lunch, there's no such thing as a maintenance free fence, so think about the level of periodic maintenance you're willing to deal with.
Chain link fences are very popular from a cost factor, and don't do much for privacy, but adding shrubs and flowers along the fence may help with that.
Wood fences can offer privacy and versatility and can last as long as 15 to 20 years. We offer a choice of woods and many different styles of wooden fences, so think about what will work best for you.
Pressure treated pine is the most economical type of wood fence, which makes it a great choice for the budget conscious.
Western Red Cedar is known for its long lasting good looks, with tight grain, fewer knots and a red hue. However, it's not as resistant to rotting underground, and it's become quite expensive, compared to pre-pandemic pricing.
Composite fencing is made from wood fibers combined with plastic polymer and gives a wood like look without the propensity to degrade from insects or rot.
Vinyl fencing has been around for years and is a durable option that can provide complete privacy, or spaced picket options.
and ornamental steel fences are maintenance-free. They also integrate perfectly into any yard, adding style without taking away from the beauty of your yard. Perhaps most importantly, these fences will add security to your backyard.
If you are considering a new fence, you should reach out to the fencing professionals at Paramount Fence, Inc . We are a locally owned and operated fence company in the Fox Valley area servicing the Chicagoland Suburbs. We understand that each client is unique, and our fencing experts will work with you to ensure that you purchase a fence that satisfies your needs for years to come. We strive to provide excellent customer service, which is why we are members of the American Fence Association and the Better Business Bureau (BBB). In fact, we have one of the highest customer service ratings with the BBB in the area. For more information, visit our website or contact us at 630-239-2714.