Skip to Content
Stain, Paint, or Varnish for Your Fence?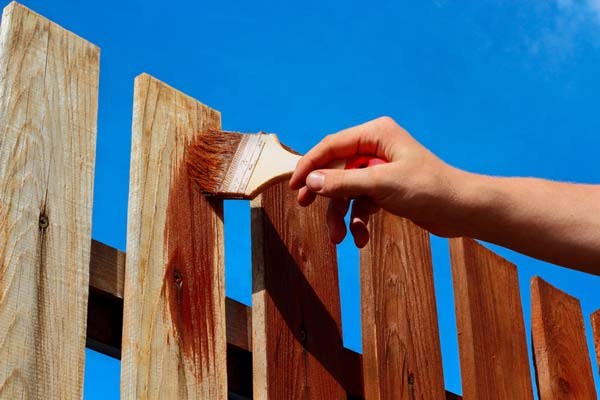 You may be installing a new fence, or you may find yourself in charge of an old fences' upkeep. Whatever the case, you have several different finishes from which to choose, from stain to paint to varnish. Which one you choose is a matter of personal preference, and you can decide which is best based on your home's aesthetic and your landscaping. There are just a few things to consider while making your decision.
How much maintenance are you willing to do? No matter what you use to treat your fence, it will need to be refreshed from time to time. Paint fades, peels, and chips, stain fades, and wood soaks up stain and varnish. Which is the sturdiest medium? Stain and varnish don't have to be scraped when they begin to age, and they help protect the wood.
What's your budget for covering your fence? Stain is less expensive than paint, but because the wood soaks it in you'll need more stain than paint on the fence. Whether you use paint, stain, or varnish, you'll be protecting your fence from bugs and rot, as long as you stay on top of the upkeep.
How long do you want the fence covering to work? Paint doesn't soak in as much as stain, so that more of it lies on top of the wood. You will probably need to repaint it more often than you would have to reapply varnish or stain. However, it's easier to change the color of your fence when it's painted, and you have a wider variety of colors from which to choose. You also may be able to apply only one coat of paint, if you paint it on thick enough.
Do you know how to apply stain? Stain comes in a variety of colors, but the initial application of stain onto raw wood may take several layers. Stain soaks into the wood, so you'll need more of it than you would of paint. What's more, staining a fence takes time. Applying the stain with an all-natural brush or a cotton rag, you'll let each coat of stain dry before beginning the next level.
Are you looking to protect the wood? Varnish is typically just used for a topcoat and provides the finish you may have seen on boats and decks. As with stain, varnish should be applied with a natural bristle brush.
Of course eventually, no matter how well you have maintained your fence it, there will come a time when a coat of paint is not going to cut it.  If you're ready for your new fence, call Paramount Fence for professional installation. At Paramount, we've been in business for over ten years, but our combined experience in the fence industry spans more than half a century! We're a full-service fence sales and fence installation business in the Chicagoland area, and we're dedicated to providing creative and affordable solutions that address our clients' needs and fulfill their requests. Our staff offers exceptional customer service, striving to exceed your expectations throughout the fence buying and fence installation process. We provide high-quality, beautiful fences, and our reputation for excellence is well-established. Paramount Fence is a member of the American Fence Association and a registered member of the Better Business Bureau. For more information on how we can help you find the right fence to meet your needs, call us at 630-239-2714 or contact us through our website.