Skip to Content
Staining a Western Red Cedar Fence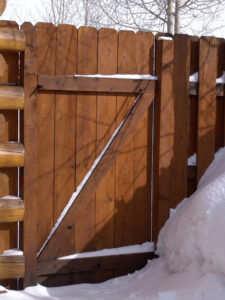 Wood fencing is popular as a residential fence option, because a wood fence is attractive, sturdy, can offer privacy, and doesn't require much maintenance. There are different types of wood fence materials, but if you've chosen a western red cedar fence, you don't necessarily have to do anything to it aside from applying a clear wood sealant to keep it from drying and cracking. Left to its own devices, western red cedar will age into a lovely, silvery color. However, if you want to put some sort of coating on it, stain is a better option than paint. Painted fences need to be repainted every five to seven years, and this is a labor-intensive task that involves scraping, sanding, and priming as well as applying paint. A better option for your residential wood fence is a semi-transparent stain.
Why choose semi-transparent stain? It's very durable and can be retouched with no sanding or scraping required. All you'll have to do to touch up your stain is to brush some on top of the old coat, and you'll only need to do this about every five to six years. This kind of stain is attractive, too, because it provides some color while allowing the look of the wood grain to show. Here's how to apply the initial coat of stain:
Clean the fence with wood cleaner before applying stain, to remove dust and grime and break the "mill glaze."
If the wood darkens during the cleaning process, use wood brightener to neutralize tannins and bring the wood back to its natural beauty.
Make sure the fence dries completely before staining it.
Use canvas drop cloths to protect the ground and nearby surfaces.
Use a ½ inch nap roller to apply the stain.
For narrow surfaces and cutting in around fence boards, use a 4-inch trim roller.
Alternately, apply stain with an electric cup sprayer, moving it vertically to apply stain in the direction of the wood grain.
You can rent an airless sprayer that uses a 5 gallon bucket, and use that to spray stain on all the fence surfaces, overlapping each pass.
As soon as you spray a section, use the trim roller to clean up any drips.
If you're looking for a fence company with a spotless reputation and excellent customer service, call Paramount Fence for professional wood fence installation. We're a full-service fencing company in the Chicagoland area, proudly serving the following counties in Illinois: Kane, DuPage, Kendall, DeKalb, McHenry, and parts of Cook, Will and Lake. With more than half a century of combined experience, we're dedicated to providing creative and affordable solutions that address our clients' needs and exceed their expectations. Paramount Fence is a member of the American Fence Association and a registered member of the Better Business Bureau. For more information, call us at 630.239.2714 or contact us through our website.
Once your wooden fence has been installed, it should be stained soon afterward. Not only can an outdoor-graded stain enhance the color and beauty of redwood or red cedar fence; it also can protect the wood from the elements. There are two basic ways to apply stain to a wooden fence: with a paint roller made for staining, and with a spray applicator like a high-volume, low-pressure, or HVLP, sprayer. Depending on the type of stain you use—transparent, semi-transparent, or solid color—you'll have to reapply another coat of stain every two to six years. Check out this video to learn more about staining a fence using an HVLP sprayer.
To learn more about wooden fences or fence repairs, including fence installation in Chicagoland, contact Paramount Fence at 630-225-7680.