Skip to Content
Top 7 Reasons for Hiring Professional Fencing Contractors
Robert Frost coined the phrase "good fences make good neighbors" in his 1914 poem "Mending Wall." While the meaning in the poem may have been slightly more about "turf protection," it can also be applied to adding value to a home and property.
A high quality fence can add privacy, security, safety and even elegance to your home, business, or commercial property. If you've considered installing your own fence as a do it yourself project, here are 7 reasons why hiring a professional installer will be a much better idea.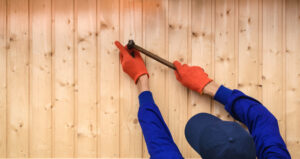 You Get the Right Fence
A professional fencing company can provide expert advice on the type of fence you should install. They'll consider all the aspects of the job, including some things you may not have thought about:
best materials for the job
functionality
maintenance
style
aesthetics
terrain
durability in Midwest winters
local height and set back regulations
utility easements
your budget
You'll Save Time
A professional installer knows the ropes. They'll have all the tools, expertise, and experience to get the job done in a fraction of the time it would take you to do it yourself. You won't have to spend your time trying to learn the ins and outs of fencing and tackling tasks such as planning, shopping for materials, renting tools, and finding helpers. All of these need to be completed before you even start your project.
You'll Save Money
When you start building your own fence, it's not uncommon to run into unexpected expenses. You may have to stop work to purchase more materials, you might break a piece of equipment, or even worse, you might injure yourself.  A professional fence installer will give you a price that will completely do the job from start to finish with no surprises.
The Job Will Be Done Correctly
Hiring a fencing company to install your fence will give you peace of mind that the job will be done properly. Professional fence installers know their craft inside and out and will make sure that you are completely satisfied with their work. For fencing companies, reputation is key, and they'll see to it that your job will be done so well that you'll recommend them to your friends and neighbors.
Your Fence will Increase your Property Value
A professionally installed fence will add valuable curb appeal to your home along with other tangible benefits such as security and privacy. When you hire a fencing company, look for one with experience in your area and a company that stands by their work. If you decide to sell your property, prospective buyers will know that the fencing materials and workmanship are top quality and up to code, assisting rather than hindering the sale.
You'll Eliminate the Muss and Fuss
When you hire professionals to install your new fence, you can sit back, relax, and watch while they take care of the installation. Your main responsibility is to make sure that are in compliance with any permitting or other regulations from the municipality or your home owners association.
Guarantee
If you build your own fence, you might do it correctly and it might last for years. On the other hand, if you miss any of the steps required, you might have to make costly repairs. A professional fence company will stand behind their work and will take care of any problem that falls under warranty that may arise after the initial installation.
When you are ready to install a new fence, or for any questions or concerns about fencing, check with the professionals at Paramount Fence, Inc . We have over 100 years of combined experience in providing our customers with the highest quality fencing products. We are a locally owned and operated fence company in the Fox Valley area servicing the Chicagoland Suburbs. We understand that each client is unique, and our fencing experts will work with you to ensure that you are provided with a fence that satisfies your needs for years to come.
We also install indoor fencing for commercial use. From dog runs to indoor security fencing, we are able to design and install indoor fencing to satisfy your unique business needs.
We strive to provide excellent customer service, which is why we are members of the American Fence Association and the Better Business Bureau (BBB). In fact, we have one of the highest customer service ratings with the Better Business Bureau in the area. For more information, visit our website or speak with us at 630-239-2714.