Skip to Content
5 Signs It's Time for a New Wood Fence
Whether you just bought a new house, or if you've lived in your home forever, there will come a time when you need a new fence. Even though modern fencing material is built to last, it cannot last forever. Some issues can be repaired without a complete fence replacement, while other conditions require a total teardown. But, how will you know when it's time to repair or time to replace? What are the signs to look for? Here are five indications that it may be time to replace that wooden fence.
Rotting Wood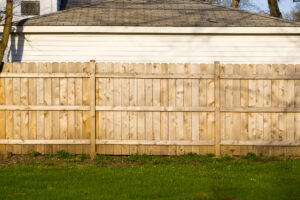 A single rotten board is one thing, but if there are several pieces of rotting wood and posts in your fence, it may be time to replace it. On a wooden fence, you'll typically notice rot in the areas where the fence is closest to the ground. That's where the fence is exposed to the most sustained moisture which can accelerates rot. While it's possible to stretch the life of your wooden fence by regularly treating the wood, Mother Nature will eventually win out and the wood will begin to rot. It's time to consider replacement if you see a significant amount of rotting wood.
Missing Boards
If you have a missing board or two in your fence, you can likely get by with replacing them. Sometimes direct impact of a riding lawn mower, soccer ball and even a car can break many fence boards. If you have a lot of broken or missing boards, it may be time to get a new fence.
Leaning
Does your fence lean in or out? That may seem like an easy thing to repair, but that's not always true. You may be able to fix the fence by straightening the support posts to try to get the fence to assume a more upright position, but the lean may be a sign of a bigger structural problem. It could be that your fence posts have deteriorated and need to be replaced, but that's not really a permanent fix. It's a better idea to look at new fencing.
Loose or Missing Fasteners
Nails and screws typically are what holds your fence together and in place. If they're falling out or loose, that can be a signal that the wood pieces are unable to hold them. If you try to replace them, that may work for a while, but eventually the wood won't be firm enough to accept another screw or nail. If structure of the fence has become compromised, you won't be able to regain it by attempting to replace fasteners in the deteriorating wood.
Repairs are Too Frequent and Too Costly
When you reach a certain point with your fence, the cost of repairing it may be too high. While many problems with your fence can be corrected, you have to consider the cost of the repairs, and the likelihood that you'll soon have additional repairs. If your fence is old and if the damage is widespread, you may find that the cost of a new fence makes more sense. Also, since a severely damaged fence is likely to present more problems, down the road, replacement may be the most economical option.
Final Words
Wooden fences are beautiful and practical, but they don't last forever. Understanding the condition of your fence and the signs that it may need to be replaced is key.
When you are ready to install a new fence, or for any questions or concerns about fencing, check with the professionals at Paramount Fence, Inc . We have over 100 years of combined experience in providing our customers with the highest quality fencing products. We are a locally owned and operated fence company in the Fox Valley area servicing the Chicagoland Suburbs. We understand that each client is unique, and our fencing experts will work with you to ensure that you are provided with a fence that satisfies your needs for years to come.
We also install indoor fencing for commercial use. From dog runs to indoor security fencing, we are able to design and install indoor fencing to satisfy your unique business needs.
We strive to provide excellent customer service, which is why we are members of the American Fence Association and the Better Business Bureau (BBB). In fact, we have one of the highest customer service ratings with the Better Business Bureau in the area. For more information, visit our website or speak with us at 630-239-2714.