Skip to Content
5 Ways a Fence Could Increase the Value of Your Home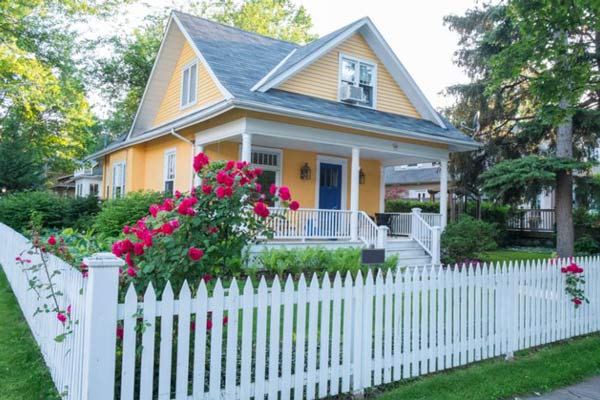 For most homeowners, the primary reasons to install a fence include things like security, privacy, and keeping pets contained. Many of us never consider the fact that a fence can add value to our homes, but the truth is, it's a good reason to put a fence in place. Whether it's a new home or an older property, installing a fence is a cost effective home improvement measure with many benefits.
Simply put, a fence can make your home look better. If you're planning to sell your house, you probably know the importance of curb appeal. Beautiful new fencing can wow your prospective buyers before they even get out of their cars and set foot on the property. There are so many different styles from which to choose, from wood to black wrought iron, that you're sure to find a fence that matches your home's aesthetic and improves its look. Not planning on selling? Think of the pride of ownership that will overtake you every time you pull up to your property and see your carefully chosen fence.
A fence can also keep your children safe. Your backyard should be one of the safest places in the world for your children to play, but if it's not fenced, you'll always have to be concerned about their safety. When children play in a fenced back yard, they can't wander off and strangers cannot approach them. What's more, a fence around the pool is a critical safety measure that's an absolute necessity.
When your yard is fenced, it can become a pet's paradise. In fact, it's one of the main things pet owners have on their lists when they're shopping for a new home. Fences can keep cats and dogs in the yard while keeping predatory animals at bay.
Fences protect your belongings. Burglars and vandals look for homes that will be easy to access, and fences make it more difficult to break in. They also make it more difficult for people to see what's inside the home, and if they're secured with locks, spiked tops, and home security systems they create an even more imposing theft deterrent.
If you value your privacy, a fence can help. When you have a fence in place, you can enjoy your yard without anyone seeing you, and throw parties without disturbing the neighbors. In addition to keeping your neighbors out, a privacy fence can create an oasis in which you don't have to hear everything going on with your neighbors.
If you're ready for your new fence, call Paramount Fence for professional installation. At Paramount, we've been in business for over ten years, but our combined experience in the fence industry spans more than half a century! We're a full-service fence sales and fence installation business in the Chicagoland area, and we're dedicated to providing creative and affordable solutions that address our clients' needs and fulfill their requests. Our staff offers exceptional customer service, striving to exceed your expectations throughout the fence buying and fence installation process. We provide high-quality, beautiful fences, and our reputation for excellence is well-established. Paramount Fence is a member of the American Fence Association and a registered member of the Better Business Bureau. For more information on how we can help you find the right fence to meet your needs, call us at 630-239-2714 or contact us through our website.