Skip to Content
How to Clean a Wood Fence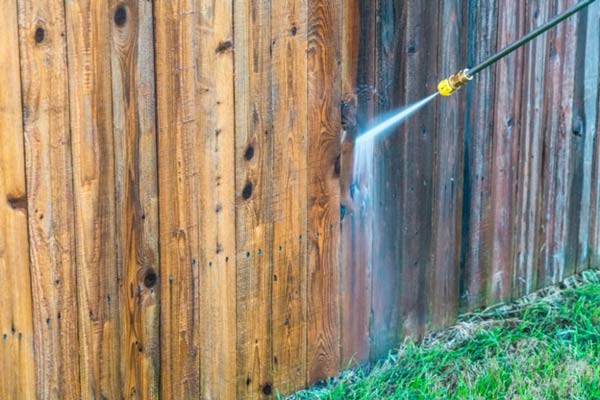 A wood fence can be an asset to your home's curb appeal, or it can be a real eyesore. How well you care for your fence has a great deal to do with whether it's a bane or a boon. That's because dirt and grime accumulate over the years, not only causing your fence to be unsightly but also degrading its integrity. Do you know how to clean your wood fence and keep it in good condition as it ages? There are some simple steps you can take to keep it looking its best.
When you use a power washer, you can get the job done more quickly than if you wash it by hand, but you also risk damaging the fence. Starting with some prep work, follow some simple steps to get the job done right.
First, remove caked-on dirt with a wire brush. Power washing can't remove plastered-on mud and grime, so it's important to gently scrub off what you can. Don't worry if you can't get it all, because you can go back over it with the brush after you've used the power washer.
Once you've brushed it, rinse it with a garden hose. Spray down the entire fence, setting the hose to medium-high pressure, which will remove some of the surface dirt.
Use the right pressure washer, with the right technique. Your pressure washer should have a psi of no more than 1500-2000 so that you won't damage the fence. It's also wise to add a 25-degree tip, to fan out the water. Standing about two feet away from the fence, use long, even strokes and spray from left to right. Keep going until you don't see dirty runoff coming from the fence, taking care to avoid pointing the power washer at one spot for too long. If you spray the water at a single spot, it can damage your fence.
If you don't have access to a pressure washer, or you prefer to wash your fence by hand to avoid potentially damaging it, that's a perfectly good option.
Prep the fence just as you would for pressure washing. Use the metal brush, scrub off the mud and grime, rinsing afterward with a garden hose.
Use oxygenated bleach to remove stains. Mixing oxygenated bleach powder with water according to the package directions, brush it on the fence with a large paintbrush. Allow the bleach to sit for fifteen minutes, and then use a plastic bristle scrub brush to scrub the fence.
Rinse the fence with the garden hose. Make sure you rinse all of the bleach off of your fence.
If stubborn stains remain, there are different techniques you can use to remove them. For mold and algae stains, use a plastic bristle brush and a solution of one part chlorine bleach and two parts water to scrub the fence. After you've removed the mold or algae, rinse the fence with the garden hose. Moss and mildew are also damaging to your fence but should be removed with a vinegar and water solution. Mix ½ cup vinegar in one gallon of water, apply the mixture to the fence with a sponge and let it sit for fifteen minutes. Then, using a plastic bristle brush, scrub off the moss or mildew, then rinse those spots with the garden hose.
Of course, no matter how clean you keep your wooden fence, someday you'll need a new one. When that day comes, call Paramount Fence for professional installation. At Paramount, we've been in business for over ten years, but our combined experience in the fence industry spans more than half a century! We're a full-service fence sales and fence installation business in the Chicagoland area, and we're dedicated to providing creative and affordable solutions that address our clients' needs and fulfill their requests. Our staff offers exceptional customer service, striving to exceed your expectations throughout the fence buying and fence installation process. We provide high-quality, beautiful fences, and our reputation for excellence is well-established. Paramount Fence is a member of the American Fence Association and a registered member of the Better Business Bureau. For more information on how we can help you find the right fence to meet your needs, call us at 630-239-2714 or contact us through our website.