Skip to Content
A Guide to Basic Fence Maintenance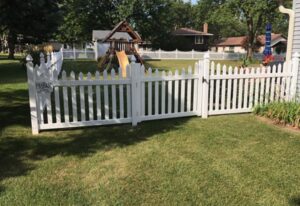 Our Wooden Fencing Designers Offer Valuable Expert Advice
Fences serve various purposes, from establishing visual property boundaries to preventing your pets and small children from leaving the yard. Whether your fence is essential to your privacy, home security, or landscaping décor, you want it to last as long as possible. Fence maintenance will help you extend its lifespan and your years of enjoyment with your new fence. With over 100 years of combined experience in the fence industry, Paramount Fence is proud to be among Illinois' largest fence companies, serving customers in Kane, DuPage, Kendall, Dekalb, McHenry, and parts of Cook, Will, and Lake Counties.
We specialize in commercial and residential fence sales and installation services, taking the time to pair customers with the best fencing solutions for their needs. From wooden fence design to the installation of chain link, aluminum, PVC, or vinyl fences, we've got you covered. Our fencing contractors are also here to offer you expert advice on preserving your fence. Keep reading to learn why fence maintenance is so important and get some helpful tips for making your new fence last for many years to come.
Why Do Commercial & Residential Fences Need Maintenance?
Whether you have a wooden or vinyl fence, fence maintenance will be necessary to keep it in tip-top shape. Illinois is no stranger to inclement weather. Not only will you have the changing seasons to deal with, but we're also prone to severe snow and thunderstorms and even tornadoes that can cause quite a bit of damage to your yard and fencing. You'll want to keep storm debris and growing vines off your fence, as these could lead to warping, rotting, or rusting, depending on your fencing material. Maintaining your fence will help you prevent costly repairs and replacements. The average lifespan of a wood fence is 15-20 years, and for PVC / Vinyl, Ornamental Aluminum or Steel, and Chain Link fences the average lifespan is 25-35 years, with some types of fences requiring more maintenance than others. If you're unsure which type of fencing is best for your property, we suggest consulting our frequently asked questions, which sheds light on the various fencing types we sell and install.
Regular Fence Inspections Are an Essential Part of Maintenance
Regular fence inspections will help you keep on top of minor issues before they become emergency fence repairs. Be sure to keep detailed notes of any damages you detect during these inspections, no matter how minor they appear. When it's time to call in professional fencing contractors for a fencing repair or replacement, you'll be able to describe your issue in greater detail to get a more accurate quote. Items to be on the lookout for include wood rot, loose or sagging posts or boards, or broken rails.
How Do You Know When to Replace or Repair Your Fence?
Sometimes a loose post can be corrected by merely removing and replacing that post. Loose rails and boards can often be nailed into place. You may be able to repair small holes in a wood fence using wood filler or putty and then repainting your fence to cover up the repair. However, warping or rot will usually require replacements.
What Are Some Helpful Maintenance Tips for Wooden Fences?
Out of all the fencing types, wooden fences generally require the most upkeep. They may need to be repainted and stained annually or seasonally to maintain their beauty. Some species of wood fences are susceptible to rotting, warping, and breaking. However, Paramount Fence specializes in cedar wood fences that are made to last, naturally resisting rot and decay. We recommend applying a stain specifically formulated for cedar to prolong the wood fence's lifespan. We also suggest cutting down any weeds or vines, as they often bring unwanted pests. You may clean your wooden fence using a garden sprayer, scrub brush, and non-ammonia dish soap. Our wooden fencing designers can design and install more than just your average picket fence. We know how to incorporate more intricate lattice designs until you get your dream wooden picket fence.
What Are the Best Ways to Take Care of Chain Link Fencing?
Chain link fencing is among your most durable fencing types, coming in galvanized, aluminized, or vinyl color-coated options. Paramount Fence offers vinyl-coated chain link fences in three colors: black, brown, and green. Keep vines and other plants from growing along your chain link fence, as they can lift it from the bottom. We also do not suggest climbing on your chain link fence, as this can weaken it by bending its support rails. Cleaning a chain-link fence is straightforward with water, dish soap, a scrub brush, and a cotton towel.
How Can You Best Care for Your New Pvc or Vinyl Fencing?
PVC or vinyl fencing is becoming more popular because it's earned the distinction of being extremely low maintenance while withstanding age and the elements. You won't have to worry about your vinyl fence losing its color due to prolonged sunlight exposure. Because vinyl is less rigid than wood, you won't have to worry about it snapping or breaking under the Midwest's extreme weather conditions. Vinyl fencing won't warp, rot, or splinter. Vinyl fence maintenance usually just requires the occasional cleaning, which can be handled easily with basic household items and a little elbow grease. Avoid using abrasive cleaners or scrub brushes, as they can scratch the vinyl surface. Rinsing your fence gently after mowing your grass can help you prevent algae and mildew staining. Get more tips when you speak with our PVC fence salespersons at Paramount Fence.
How Should You Maintain Ornamental Aluminum Fencing?
Any property owner looking to boost their curb appeal knows the merits of high-quality aluminum, steel, or wrought iron ornamental fencing. While these types of fencing are in high demand, they don't require much maintenance. Aluminum fences, in particular, are low maintenance because they do not rust. You won't need to repaint or stain your aluminum fence, although you may need to wash it occasionally. The biggest thing to watch out for on a wrought iron fence is rust, which can weaken its structure over time. You can remove most rust using a wire brush. You'll also need to sand, prime, and repaint wrought iron fence from time to time to avoid the eyesore of peeling paint. When you purchase your new ornamental aluminum fencing from Paramount Fence, it comes with a lifetime manufacturer's warranty to protect your investment. For extra peace of mind, we also carry ornamental steel as a heavy-duty alternative, which carries a manufacturer's warranty of up to 20 years.
Does Commercial Fencing Maintenance Differ From Residential?
In addition to residential fencing, Paramount Fence also installs commercial security and industrial fences for many companies in the Chicagoland area. Commercial fencing is usually higher, larger, and stronger than the average residential fencing. Depending on the material, time of year, and amount of traffic they see, commercial fences may require more regular maintenance than residential fences. In many areas, commercial fences must be made of sturdier materials, such as wrought iron or steel, due to city ordinances for commercial or industrial districts. Chain link fences are often recommended for security purposes, as they offer unobstructed views and leave fewer places for unauthorized people to hide. Aluminum and vinyl fences may require less maintenance. However, when it comes to commercial fencing, safety, security, and privacy concerns are usually given more priority than aesthetics or maintenance concerns. Talk to Paramount Fence to see which type of fence is best for your needs.
Why Choose Paramount Fence for Fence Sales or Installation?
Choosing the right fence for your home or business is not a decision to be taken lightly, and neither is choosing the right fencing company to install it. Paramount Fence has been in business for more than 15 years and is a full-service fence sales and installation company serving the greater Chicagoland area. We offer no pressure fence sales consultations that are always free. Our staff maintains high standards of professionalism to offer the most comprehensive customer service, exceeding all expectations with our fencing services. If you're still on the fence about calling our experienced, friendly fencing contractors, be sure to check out our testimonials from satisfied customers or our before-and-after photo gallery to get a glimpse of our quality workmanship for yourself. When you invest in a new fence from Paramount Fence, you'll get a beautiful, sturdy fence that's built to last.
At Paramount Fence, we pride ourselves on offering fencing solutions to fit any budget. We accept cash, checks, and credit cards. No-interest financing is also available through Wells Fargo Financial (upon approved credit). Our extensive service area includes Kane, DuPage, Kendall, Dekalb, McHenry, and parts of Cook, Will, and Lake Counties. If you'd like to request a free fencing estimate from our well-respected fence company, give us a call today!