Skip to Content
Benefits of a Privacy Fence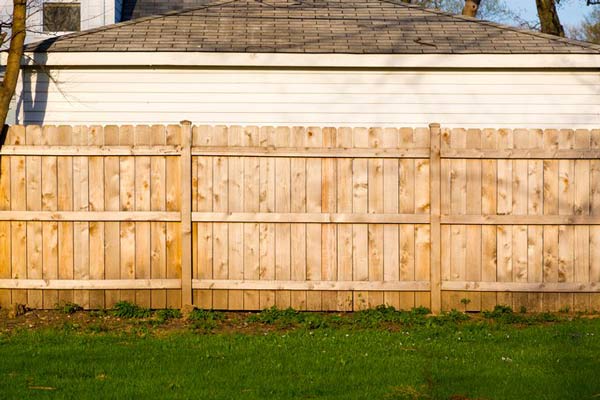 A privacy fence is a good investment, adding value and security to your property. While it won't keep your home safe from 100 percent of dangers, a privacy fence adds a layer of protection that controls entry to and from your yard and deters passers-by from gaining access to your property. If you're thinking about installing a privacy fence, you probably know all of that and may be installing it for precisely those reasons. But there are seven other benefits that you might not even have considered.
The value a privacy fence adds is significant. Adding a privacy fence can lower homeowner's insurance rates dramatically: you'll pay so much less for coverage that the fence will pay for itself in short order. What's more, a privacy fence that's well-built and well-maintained increases your home's resale value. A privacy fence makes a house look more attractive, and the fact that it reduces the risk of burglary makes it more appealing to buyers.
A privacy fence affords you comfort and seclusion. With a privacy fence in place, you can gather with your friends and family in total privacy. They say good fences make good neighbors, and this is especially true in the case of a privacy fence. If you have a pool, this type of fence is particularly beneficial, to keep out pool crashers and give your family members privacy when they swim.
Privacy fences can keep your pets safe. A privacy fence gives your outdoor animals a safe space to play and keeps stray animals from wandering into your yard.
Weather can damage your back yard, but it's less likely to when you have a privacy fence. A well-built privacy fence will protect your home, garden, and outdoor living spaces by providing a barrier to the wind and rough weather.
When you have a privacy fence, it's easy to see where the property lines are drawn. The fence makes it clear where you and your neighbors are allowed to mow, plant, or build. Just make sure you know the local regulations before you put up your fence.
It's easy to make part of your privacy fence removable. This will allow you to move something large into your yard if the need arises.
Privacy fences are customizable. A wide range of materials and designs are available so that your privacy fence can perfectly fit your needs, budget, and aesthetic sensibilities.
If you're ready for a new fence, call Paramount Fence for professional installation. A full-service fence sales and installation business in the Chicagoland area, with more than half a century of combined experience, we're dedicated to providing creative and affordable solutions that address our clients' needs and fulfill their requests. Paramount Fence is a member of the American Fence Association and a registered member of the Better Business Bureau. For more information, call us at 630-239-2714 or contact us through our website.