Skip to Content
Fence Damaged by the Weather? Here's How to Repair It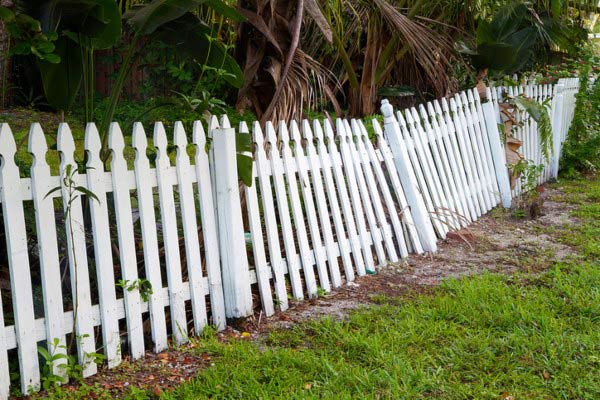 If you live somewhere that the weather is extreme, with freezing temperatures, snow, and storms, you're likely to see damage to your property. Unfortunately, your fence is not exempt from this damage: in fact, fences are often the first part of your property to bear the brunt of exposure to the elements. Fence damage can be costly, but you may be able to save some money by making some of the repairs yourself.
Wood fences are prone to storm damage. One of the most common fencing materials is wood, and in fact, wooden fences were by far the most popular for many years. Today, homeowners are likely to choose vinyl, wrought iron, aluminum or chain-link, but if you still have a wooden fence you know it's extremely susceptible to damage. Keeping your fence well-maintained throughout the year will prolong its life and protect it from harm.
The quicker you repair damage to your fence, the better off you'll be. Any time there's been severe weather, it's wise to go out and inspect your fence, looking to see if it's sustained damage. If it has, determine how significant the damage is, and whether you can repair it on your own.
If you can repair it, gather all the supplies you'll need. You'll need a crowbar to remove loose or broken pickets, a hammer, a drill, and any parts or hardware necessary to make the repairs. Get everything you'll need so that you aren't stuck in the middle of the project without necessary supplies, even if that means ordering parts online before you begin the work.
Knowing what you're doing can keep you from skipping any necessary steps. If you aren't sure of how to make the repairs, talk to a professional before you begin. Ultimately, it may be better to call someone with experience to repair the fence. In some cases, you may be better off installing a new fence, perhaps made from materials that require less maintenance and repair.
Sometimes you can repair your fence, but if you're ready for a new one, call Paramount Fence for professional installation. At Paramount, we've been in business for over ten years, but our combined experience in the fence industry spans more than half a century! We're a full-service fence sales and fence installation business in the Chicagoland area, and we're dedicated to providing creative and affordable solutions that address our clients' needs and fulfill their requests. Our staff offers exceptional customer service, striving to exceed your expectations throughout the fence buying and fence installation process. Paramount Fence is a member of the American Fence Association and a registered member of the Better Business Bureau. For more information on how we can help you find the right fence to meet your needs, call us at 630-239-2714 or contact us through our website.