Skip to Content
Exploring the Benefits of Chain-Link Fencing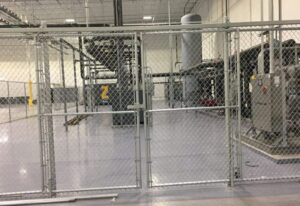 Fencing your yard can provide security and protection for your property, your home, and your family. With the wide variety of fencing materials available on the market today, including wood fencing , aluminum fencing, wrought iron fencing, and more, it is important to consider what option will provide the best solution for you and your family. One such option includes chain-link fencing—an affordable, low-maintenance, and easily installed choice. Read on for more information on why chain-link fencing might be the best option for you.
Highly Versatile
Chain link fencing is the perfect fit for a wide variety of projects. For example, this material is appropriate for residential properties such as fencing off a yard, securing a pool, or protecting a garden. Chain link can also be used to secure a commercial property or construction site.
Wide Variety
Today's chain-link fences offer consumers a great deal of variety. In the past, chain-link fencing was only available in one, utilitarian color. Now, vinyl-coated chain-link options , available in a wide range of colors including black, green, and brown, allow fencing to blend seamlessly with any house, landscape, or residential building.
Low Maintenance
Unlike some other fencing materials, chain-link fences can provide an easy, low-maintenance option. The only maintenance needed is occasional rust removal and an annual washing.
Easy Installation
Chain-link fencing is comparatively easier to install than many alternative fencing materials. As a result, when you work with a fencing professional to have your chain-link installed, your installation should be relatively efficient and low cost!
Low Cost
Chain-link fencing prices can vary greatly depending on the quality of the fencing that you choose, the height of your fence, and the material or coating being used. However, in general, chain-link fencing provides a highly affordable option.
If you are considering installing a chain-link fence as part of you next commercial or residential improvement project, contact Paramount Fence at 630-239-2714. We offer a full line of wood fencing, aluminum fencing, wrought iron fencing, and more. Call us today to speak to one of our experienced design and installation professionals.