Skip to Content
Fencing Experts | Chicago Area | Installation | Free Estimates
Chicago Area Fencing Experts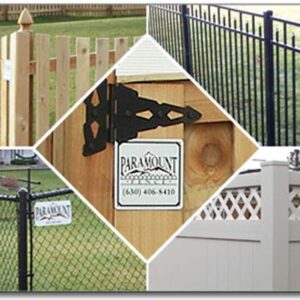 Here at Paramount Fence we would like to help find the fence that is right for you. Paramount Fence will help you select a fence style that fits your needs. Whether for security, commercial, or residential applications throughout the Chicago area.
Chicago Area Fencing Experts
Our fencing experts will work with you to make sure you pick the right materials and design to suit your needs. Paramount Fence is Chicago's fencing expert. Our fencing experts will let you know which permits and authorizations you need to start building in the Chicago area. Check with your local Chicago area building department for any specific requirements they may have
Paramount Fence uses only the finest materials found in the Chicago area. Our fencing experts can go over any basic maintenance needed for a particular fence. If you have any questions for our fencing experts feel free to give us a call at 630-239-2714 or for a free estimate click the link on the bottom of this page.
Chicago Area Fencing Experts
Paramount Fence has been owned and operated in the Chicago area for over 20 years. Our Chicago area fencing experts provide service to McHenry, Lake, DeKalb, Kane, DuPage, Cook, Kendall, and Will counties.
Our fencing experts can go over any questions about fence installations, estimates, or fence repairs in or around the Chicago area. If you are worried any splitting, rotting, or discoloration on your wood fencing.
Talk to Fencing Experts About Your Property
Paramount Fence has a team of experts that can explain what is going on or come out for an inspection. The Chicago area and surrounding suburbs are known for harsh weather which can put a lot of wear and tear on your wood fencing, our fencing experts can determine if your fencing needs repair or replacing.
If you have any questions feel free to give us a call at 630-239-2714 or for a free estimate click the link on the bottom of this page.Multiple Special Financing Programs Available
Click Here for a Free Estimate