Skip to Content
How to Prepare Your Yard for a New Fence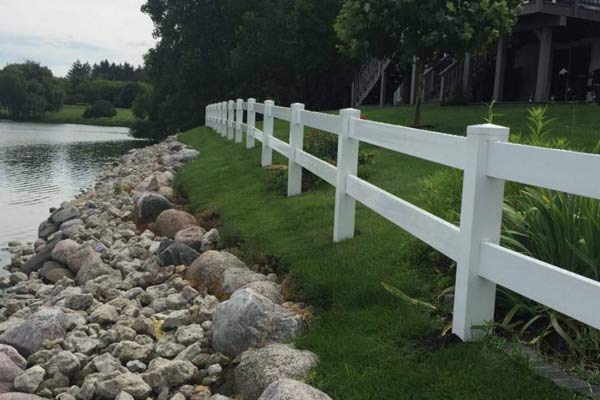 So, you're ready to install a new fence. It's a smart move, because a fence is a great way to protect your property, improve your curb appeal, keep your family safe, and perhaps even afford you some privacy. But while you may be ready for your fence, can you say the same thing about your yard? Here's how to make sure your yard is prepared when the new fence arrives.
Clarify the property line ahead of time. The first step toward installing a fence is to mark the property line. It's important to know exactly where that line is so that you don't have to tear down the fence later and reinstall it. If you don't have blueprints or other documents showing the exact location, check with your local authorities to get a set of plans.
Be a good neighbor. Talk to your neighbors before you install a fence, to make sure they're not bothered by the process or upset with the finished product. If you're going to be sharing the fence, it's smart to get your neighbors input on the materials, size, and color, but even if the fence is solely yours, it's good to be on good terms with your neighbors. You'll also want to check with your neighborhood association or homeowner's association, to make sure your fence falls in line with any rules or guidelines that have been put into place.
Get rid of any obstacles to your new fence. Before your fence installation contractor comes out to put in the fence, walk the fence line to make sure there are no big rocks, tree stumps, or other objects that might impede the process. Pay attention to the slope of your property, too, so that you can have the right fence panels to accommodate for the incline.
Make sure you're clear on all utilities and their placement. Sewage lines, water pipes, and underground cables can all cause a big headache if you disrupt them. Most fencing companies will do a thorough inspection before they install, but it doesn't hurt to call the utility company ahead of time to make sure you have all the facts about utilities on your property.
Choose the right installer. Installing a fence is a big job, best left to the professionals. Look for a company with a good reputation, and get a few estimates before you make your final decision.
If you're ready for a new fence, call Paramount Fence for professional installation. A full-service fence sales and installation business in the Chicagoland area, with more than half a century of combined experience, we're dedicated to providing creative and affordable solutions that address our clients' needs and fulfill their requests. Paramount Fence is a member of the American Fence Association and a registered member of the Better Business Bureau. For more information, call us at 630-239-2714 or contact us through our website.