Skip to Content
How to Weatherproof Fences
Fences are an important investment and serve many purposes around your home or business. Over time, it is important to weatherproof fencing. As you start seeing signs of rusting, cracking, warping or rotting, it's not too late to act! Just follow these tips on how to weatherproof fences.
Weatherproofing your Wood Fence
It is important to know the type of wood you are working with. The most common types used are redwood, spruce, fir, pine, cedar or cypress. Redwoods and cedars contain natural oils that will resist mold and rot. Cedars and redwoods may need oiling to help them be able to combat the elements. Cyprus and spruce are more vulnerable, so require a water-resistant finish of some kind.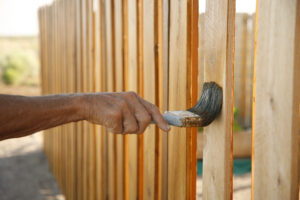 To keep the wood in good condition, the following may need some attention:
Shore up weak points: Walk along both sides of the fence and look for any spots that need maintenance. Hammer in loose nails, drive in new screws, replace decaying posts and prop up damaged pickets. Getting your fence to stand tall and straight is the first step toward making it more resilient in inclement weather.
Apply a waterproofing sealant: You have three options for waterproofing a wood fence. The first is to apply a silicone or acrylic sealant to protect against water, extreme temperatures, and UV rays. Colored sealant darkens light wood while clear sealant brings out its natural beauty.
Apply moisture-resistant paint or stain: The second waterproofing option is to paint your fence with latex or alkyd-based paint. These are available in many colors and glosses to provide the look you want. Just be sure to read labels carefully to ensure you purchase paint designed for this application. Stain is another option for sealing and protecting a wooden fence.
Apply a wax polish: The final waterproofing option is to wax the fence with colored, pine or clear wax. Each type repels dirt, dust, and grit with varying aesthetic effects. You can apply wax to wood fences finished with varnish, shellac or oil-based paint.
Clear away leaves and debris: When organic materials stay in contact with your fence for an extended period, they promote rot and insect problems. Rake away leaves and other debris regularly throughout the season to prevent this.
At Paramount Fence, we install Western Red Cedar wood that is naturally resistant to rot and decay, however, these options above offer an additional protection for your new wood fence.
Weatherproofing Other Types of Fences
Rust is a problem for wrought iron fences. If your fence is already rusty, brush off the flakes. Then, apply weatherproof wax or anti-rust paint to help water roll off the metal instead of sticking to it and making it rust. For a more maintenance-free ornamental fence, consider one made of aluminum or steel instead.
PVC and chain link fences are naturally weather-resistant, so all you must do is clean them occasionally.
Paramount Fence
Paramount Fence is a locally owned and operated fence company in the Fox Valley area servicing the Chicagoland Suburbs. We're dedicated to helping you design and install a beautiful, long-lasting fence around your home or commercial property. To learn more about our services, please call us at 630-406-8410 or contact us online today to get started.