Skip to Content
Is It Better to Paint or Stain a Fence?
If you're thinking about installing a new wood fence, you might have questions about the finish. While you can choose to leave your fence bare, this may shorten its lifespan. Over time, an unfinished wood fence could warp, twist, split or develop mold. To protect it from the elements, consider either painting or staining your fence. You may also want to consider alternatives to wood fencing if you prefer to do neither.
Painting a Fence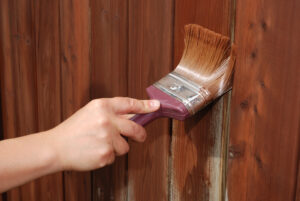 Proper care for a fence will increase its lifespan and help it look much nicer. Protection can come in the form of paint or stain. Both of these have benefits that bring pros and cons that are worth considering before making a choice and contacting a fence company.
Pros and Cons of Painting a Fence
Painting your fence allows for more variety in options. Paint has so many color and finish options to choose from. If you are looking for a more creative color scheme, paint may be your best option as far as color goes. Paint also dries more quickly and can be applied under more weather conditions. Really, as long as it's not raining or below freezing, paint can be applied. Paint can be brushed or sprayed on and needs to be reapplied every five to six years, which is less frequent than stain.
There is more to consider, though. Before you paint your fence, any previous paint must be scraped off and smoothed out. While paint is cheaper to purchase per gallon, proper technique requires a primer in addition to the paint which adds an additional cost. Painting will require more coats than staining does and shows cracks and imperfections more quickly.
Pros and Cons of Staining a Fence
Most of the time, staining is better than painting your fence. Stain absorbs into the wood, compared to paint which sits on top of the wood. Stain eventually fades and must be reapplied, but the average lifespan of a good stain is up to three years and the actual labor of staining a fence is significantly less than what is required when painting. Simply pressure wash the fence to produce a clean, prepped surface for staining. Stain can also be applied easily with a weed sprayer. Stain often costs more than paint upfront, but because you don't have to use nearly as much, making the overall cost cheaper. Stain comes in many different shades and transparencies. Some are clear, which provide waterproofing and protection for your fence without changing its color. Then, some are semi-transparent. They darken the wood but still allow the grain to show through, emphasizing its natural beauty. Others are more opaque, mimicking the appearance of a painted fence without nearly as much maintenance. In harsher climates and environments, it is best to stain your fence because it won't chip, bubble, or crack.
Some drawbacks of staining are that it does take longer to dry, so you have to leave it alone for up to two days once the stain is applied. During that time, hopefully the weather cooperates so that you don't have to redo any sections. Stain can be slightly unpredictable as it can be absorbed differently by the wood, which can change the amount of stain that you need to purchase.
Paramount Fence
Paramount Fence installs wood, vinyl, ornamental and chain link fences in the Chicagoland area. We have over 100 years of combined experience in providing our customers with the highest quality fencing products. We are a locally owned and operated fence company in the Fox Valley area servicing the Chicagoland Suburbs. Let us help you make the right selection for your home or business. For additional information about our services and the finishing options for wood fences – or to learn more about fencing that never needs to be painted or stained – please call us at 630-406-8410 or contact us online today.