Skip to Content
Keeping Your Dog Inside a Fence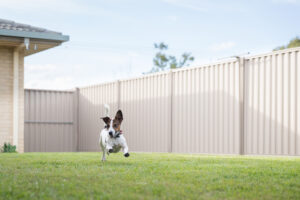 For lots of dog owners, a nicely fenced backyard where your pup can roam, sniff, and snooze in the shade is a must.  It's perfect, except when the dog becomes an escape artist and flies the coop! When a dog gets out, you have to be concerned with his safety as well as the safety of other dogs, animals, or children in the neighborhood.
There are many reasons your dog may decide to roam:
They may be lonely, looking for a playmate
They might see something outside your yard that they consider a threat
They might have found some "treasure" outside your yard, like food, a squirrel, another dog, an enticing stream of water, or a big field to run in.
A young dog might leave to find an outlet for its adolescent energy
You may never know why the dog left, but there are a few different means they use to escape:
Some are jumpers, leaping over your fence like a gazelle
Some are climbers, especially if your fence is chain link, they'll just climb right over
There are chewers, who can make a hole in the fence large enough to squeeze through
Diggers will burrow under a fence and make their escape.
Deep thinkers may figure out how to actually open the gate
Some dogs will rush the gate whenever it's opened
There are ways that you can outsmart these escape artists.
For jumpers and climbers, you can make your fence higher. Remove any climbing aids in the yard such as wood piles, garbage cans, benches, or boulders.
Be very careful when approaching and opening the gate to make sure your pooch doesn't have the opportunity to run out.
For dogs who seek adventure outside the yard, try to make the yard your dog's happy place. Also, it's important to take your dog for a walk every day to help satisfy his need to sniff out the neighborhood.
You may never know why your dog left, but when you get him back, praise him and don't punish him, as punishing may make him want to avoid coming home the next time.
Paramount Fence, Inc is a locally owned and operated fence company in the Fox Valley area servicing the Chicagoland Suburbs. We understand that each client is unique, and our fencing experts will work with you to ensure that you purchase a fence that satisfies your needs for years to come. We strive to provide excellent customer service, which is why we are members of the American Fence Association and the Better Business Bureau (BBB). In fact, we have one of the highest customer service ratings with the BBB in the area. For more information, visit our website or contact us at 630-239-2714.