Skip to Content
The Fence Installation Process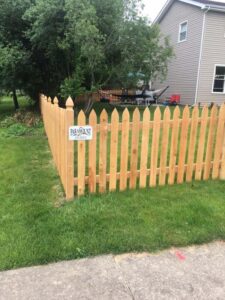 Installing a fence can be a tedious process for a homeowner, but a professional fence company can make the process quick and trouble free. Fence installation requires a number of steps done in a particular order:
Scheduling an Estimate
Your first step is to schedule a salesperson to come out to your property. The salesperson will carefully measure the area where the proposed fence will go. Then you'll be presented with different options of fences to help you decide what type of material you want for your fence. The salesperson will typically provide you with a price on the spot, but may contact you later with precise figures.
Fence Selection
One of the items you'll need to handle yourself is selecting the fencing material. There are many different styles, colors, and hardware options to choose from.
Permitting
Depending on the town or subdivision, a fence permit may be required. Sometimes, an HOA will have to approve the fence before installation. The homeowner is typically responsible for obtaining all permits and HOA approvals, as well as providing the salesperson with a copy of the plat of survey to take with them upon signing the contract.
Digging
Obviously, the installation of your fence will require digging for the posts. Prior to doing any digging, your fence company will contact JULIE to request locates for the local utility providers. They will come to your property and mark all of the areas where their lines are buried within a tolerance zone of 18" on each side of where the utility line may be running, so as to help prevent any accidents during installation. The installation crew will dig postholes and set the fence posts in wet concrete.
Setting Up the Fence
Once the holes are dug and the fence posts are set in wet concrete, the installation crew can begin stick building your fence if it is wood, or attaching panels if it is a special material like aluminum.
Completing the Job and Final Inspection
After everything is done, the fence company will clean up any debris and allow you an opportunity to examine the entire installation. The homeowner is responsible to contact their municipality if a final inspection on the fence is required.
If you're considering installing a fence, you should contact  Paramount Fence, Inc. We are a locally owned and operated fence company in the Fox Valley area servicing Kane, DuPage, Kendall, Dekalb, McHenry, and parts of Cook, Will, and Lake Counties. We understand that each client is unique, and our fencing experts will work with you to ensure that you purchase a fence that satisfies your needs for years to come. We strive to provide excellent customer service, which is why we are members of the American Fence Association and the Better Business Bureau (BBB). In fact, we have one of the highest customer service ratings with the BBB in the area. For more information, visit our website or contact us at 630-239-2714.