Skip to Content
Outdoor Projects to Help Your Home Sell Faster
Even if the interior of your home is worthy of a magazine cover, many would-be home buyers might never see it if the exterior is less desirable. Entice more people to your open house events, and create a stunning first impression, by sprucing up the hardscaping and landscaping around your home. A great place to start is with a professional fence installation.
Fence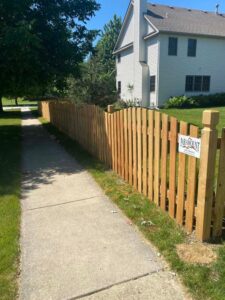 Wooden fences, PVC fences, and ornamental fences are popular among home buyers. Choose a fence that fits with the style and design scheme of your home. Additionally, consider the surrounding properties. If you have close, visible neighbors, a privacy fence in the backyard could be a great addition.
Mailbox
The mailbox is one outdoor feature that home sellers often neglect. Take a look at yours, and replace it if it looks rusty or unstable. Avoid replacing it with a novelty mailbox, like those that look like animals or vehicles. You want house hunters to be able to envision their own style preferences when they see your home.
Garden Beds
If it'll be awhile until your home is ready to go on the market, you should have time to update your garden beds and shrubs. Purchase established plants, rather than growing them from seed. If you're in a rush, simply adding a fresh layer of mulch can make your garden beds look fresh. Remember to trim overgrown shrubs and overhanging greenery, and pull up the weeds.
Front Door
The front entryway has a lot of potential for enticing home buyers. Give it a fresh coat of paint, and replace the hardware. If the doorbell doesn't work, get it fixed. And consider having a contractor install a small overhang if your front entrance currently lacks one. Home buyers like knowing they can look for their keys without getting rained on.
You can boost the value of your home and help it sell faster with help from the pros at Paramount Fence. Call 630-239-2714 to discuss your fence installation ideas for your Chicagoland home. Ask us about our free estimates!