Skip to Content
Red Cedar: Using Only the Best to Make Wood Fences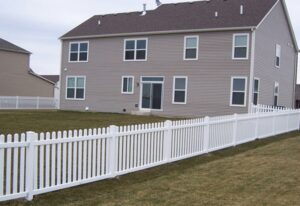 Western red cedar wood has been used for fencing around Chicago for many years. Over the course of time, western red cedar has proven itself as the best wood for fences in the Chicagoland area. One of the greatest benefits of western red cedar is its natural resistance to rotting and decay. This alleviates the need for any sort of chemical treatment to the wood.
When it comes to making your wood fence durable for the long haul though, staining or painting is a great way to add to the lifetime of your fence. While it is not necessarily needed with western red cedar, utilizing a wood stain will certainly extend the life of your fence. Something to also keep in mind is that only western red cedar wood fences have the distinct aging quality that allows them to weather over time to a desirable silver-gray color.
To learn more about why and how we utilize red cedar in fencing, contact Paramount Fence. At Paramount Fence, not only do we use the best materials available, we continually strive to provide top-of-the-line service to the Chicagoland area. Call 630-239-2714 to speak with a representative about your fencing needs today.