Skip to Content
Tips for Choosing the Best Fencing for Heavy Snow Areas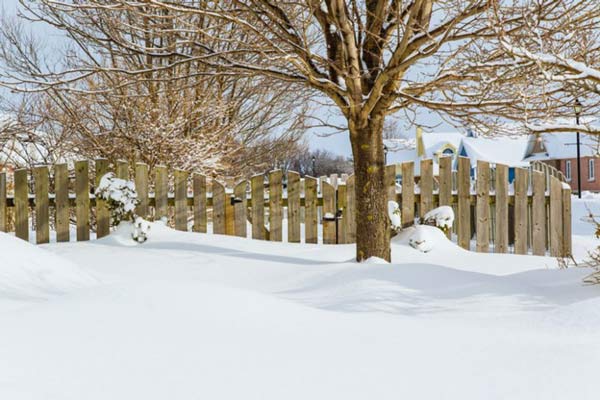 Winter is long and brings with it harsh weather: snow, high winds, and driving rain. All of that rough weather can be hard on a fence, especially in a climate with a lot of snow. So what's the best type of fencing for heavy snow areas? Keep these things in mind when choosing a fence.
• Choose a fence with rails and pickets over a privacy fence. When snow falls continuously and freezes overnight, it becomes extremely heavy. When it gathers on and around a privacy fence, it can do serious damage, but picket and rail fences don't allow the snow to pile up as privacy fences do. If you don't want to spend the winter shoveling snow away from your fence, choose a fence that allows the snow to blow through the gaps.
• If you're looking for a fence that can withstand the cold and the weight, choose metal. Fencing made of treated aluminum and iron won't absorb water. It also won't expand and contract as temperatures fluctuate, and it won't crack on the coldest nights of the season. Metal fencing is also tough enough to handle heavy snowdrifts, but a metal fence of pickets or rails lets the snow pass through. The downside of metal fencing is that if it lies along a salted roadway it could become corroded.
• Wood is a high-maintenance fencing material. Wood fences need to be treated and sealed each year if they're going to withstand cold winters and heavy snow. Cold temperatures and snow can cause damage that may not be obvious until the snow melts in the spring.
• Vinyl is good cold-weather fencing. While you should still choose a picket or rail fence, vinyl fencing is built to withstand the worst weather. Modern vinyl is made with anti-impact inhibitors to strengthen it so that it won't crack under pressure.
• Fence posts should be buried deep in the ground. The posts can be the weakest point in a fence, but when they're buried a couple of feet below the frost line, they'll stand up to the expanding and contracting earth in freezing weather.
If you're ready for a new fence, call Paramount Fence for professional installation. At Paramount, we've been in business for over ten years, but our combined experience in the fence industry spans more than half a century! We're a full-service fence sales and fence installation business in the Chicagoland area, and we're dedicated to providing creative and affordable solutions that address our clients' needs and fulfill their requests. Our staff offers exceptional customer service, striving to exceed your expectations throughout the fence buying and fence installation process. Paramount Fence is a member of the American Fence Association and a registered member of the Better Business Bureau. For more information on how we can help you find the right fence to meet your needs, call us at 630-239-2714 or contact us through our website.