Skip to Content
Preparing Your Fence for Winter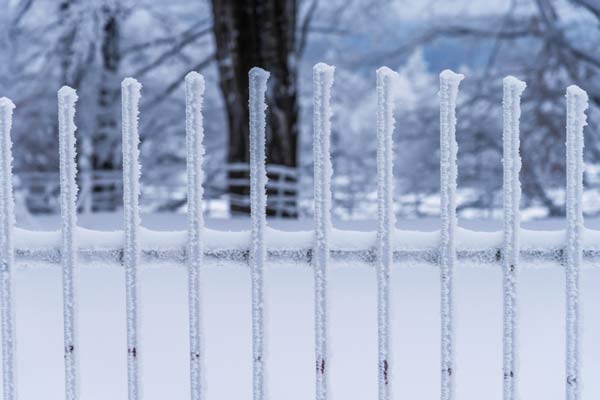 Winter can be a beautiful season, with picturesque snowfalls blanketing your yard. Unfortunately, if you live in an area with cold and stormy winter weather, it can wreak havoc on your fence. Here, we offer some helpful tips to help you get your fence ready for winter.
Trim your greenery. If trees or shrubbery come into contact with your fence, you'll need to trim them before winter arrives. Cutting back branches that are close to or above the fence can keep them from breaking off in a storm and smashing your fence.
Watch where you shovel your snow. Whether you're plowing or shoveling, take care not to pile the snow up against your fence because the weight of the snow can cause your fence to sag, warp, or even fall over. Be especially careful if you're using a plow, because people often knock over their fences with the plow itself!
Make sure your fence can be seen. If your fence is near a road, there's a greater risk it could be hit in winter, when roads are slick. If your fence is white, it may be especially difficult to see in the snow, so consider placing reflectors to increase its visibility.
Keep the snow off of your fence. Snow on a fence can be very beautiful, but it's not good for the fence. In fact, when the moisture from snow saturates a fence, it can cause rot, mold, and mildew. Use something gentle, like a gloved hand or a broom, to knock off the snow before the fence is damaged. You might also consider getting ahead of the problem by sealing it with a waterproof sealant before the arrival of winter.
Check the fence before winter hits. Inspect it, looking for loose boards or damage, so that you can repair or replace it before the winter weather arrives.
A well-maintained fence should last for many years, but when you're ready for a new fence, call Paramount Fence for professional installation. At Paramount, we've been in business for over ten years, but our combined experience in the fence industry spans more than half a century! We're a full-service fence sales and fence installation business in the Chicagoland area, and we're dedicated to providing creative and affordable solutions that address our clients' needs and fulfill their requests. Our staff offers exceptional customer service, striving to exceed your expectations throughout the fence buying and fence installation process. We provide high-quality, beautiful fences, and our reputation for excellence is well-established. Paramount Fence is a member of the American Fence Association and a registered member of the Better Business Bureau. For more information on how we can help you find the right fence to meet your needs, call us at 630-239-2714 or contact us through our website