Skip to Content
What Color Should You Stain Your Fence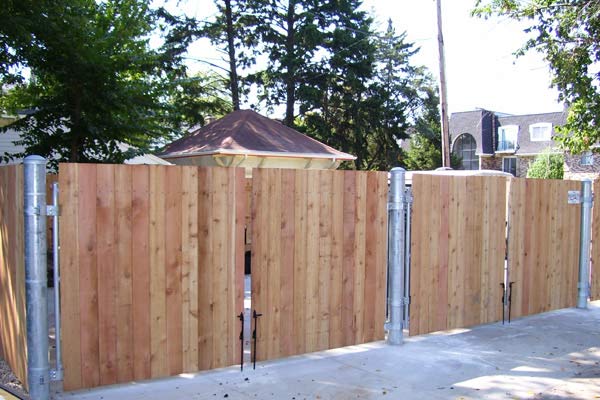 One of the great things about installing a new fence is that you have the opportunity to increase your curb appeal. Because of that, the color you stain it is extremely important. Your fence greatly impacts the look of your property, so you want it to beautifully complement your home and landscaping. How do you choose the right color?
First, of course, you should consider the rest of your property. Look at the colors on other structures, including your house, deck, pergola, or any other structures you may have on your property. Choosing a fence stain color that matches or at least complements the colors of these other elements can make sure it doesn't look out of place. Choosing to paint the fence to match the trim color on the outside of the house is another perfectly viable option.
Remember that stains can look different in a sample than they'll eventually look on your fence. First, you'll want to test the stain color on the wood you're planning to stain, because the color may be different than the in-store wood swatch. If you have wood scraps left over, that's perfect, but if not, look for an inconspicuous testing area. Remember that stains fade over time, so the color you choose should be one that will still look right with the other structures, even after it's faded to a lighter hue.
Lighting and area have an impact on the stain color as well. The fluorescent lighting of a hardware store is not going to give you a true feel for how a stain or paint will look once it's in your home environment. Consider whether the area you're staining is in sun or shade, and look at the stain in the exact light where it will eventually be installed.
Size matters when it comes to choosing a color. Color on a small swatch is going to look different than when that color is applied to a large fence. Bear in mind that dark colors tend to make small spaces look smaller, and lighter colors make areas look larger and more spacious.
Don't forget your HOA. If your neighborhood has a homeowner's association or neighborhood association, there are probably rules in place regarding approved stain colors. Do your research, to avoid having to strip your fence and redo it because you chose a color that's against the rules.
If you're ready for a new fence, call Paramount Fence for professional installation. A full-service fence sales and installation business in the Chicagoland area, with more than half a century of combined experience, we're dedicated to providing creative and affordable solutions that address our clients' needs and fulfill their requests. Paramount Fence is a member of the American Fence Association and a registered member of the Better Business Bureau. For more information, call us at 630-239-2714 or contact us through our website.