Skip to Content
What's the Right Fence Height?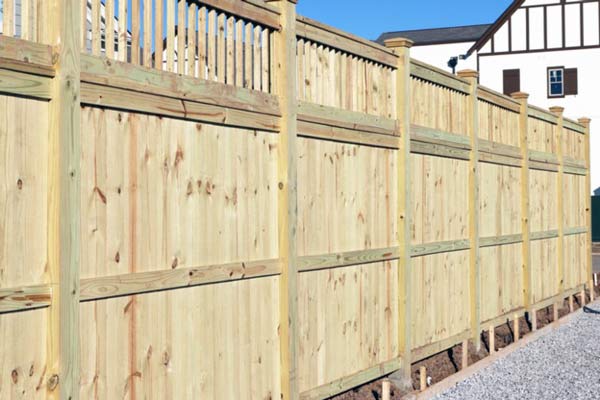 When you're choosing a new fence, you probably put a lot of thought into the look, the materials, and various other features. Something important to consider, though, is the height. Do you know how tall your fence needs to be? Several factors play a role in this decision.
Consider the style. Your fence is more than a barrier around your property, it's a very visible feature of your home. Choosing a fence that matches the aesthetic of the house is important, and only after you know what style of fence you'll install will you be able to determine the correct height.
Think about the purpose of the fence. Are you trying to keep pets and children contained? Do you need to keep intruders out? Or are you just interested in improving your curb appeal? Defining the purpose of your fence will help you determine the right height.

If you need to contain kids and dogs: Look for a fence your dog can't jump or climb over, and that no one can reach over to grab a child. 4-6 feet is about average.
To protect your home from intruders: A casual intruder will be deterred by 6 feet, but if you're worried about motivated burglars, 8 feet might be better.
If you have a pool: Check the local ordinances and pool code. Typically, pool fences are at least 4 feet high, with safety precautions in place to keep kids from climbing them or going through them.
If your fence is going to go around a garden: 3 to 4 feet should be tall enough to keep small animals out of your garden.
When you're installing a fence for privacy: Choose a material like wood or vinyl to block the view from outside the fence. Then go for a fence that's at least 7 or 8 feet tall.
If you're simply trying to establish the property line: This kind of fence is typically short, usually between 3 and 6 feet high.

Consider the rules and regulations. Apart from all the other factors, you must abide by the local regulations set by governmental agencies or your HOA.
If you're ready for a new fence, call Paramount Fence for professional installation. At Paramount, we've been in business for over ten years, but our combined experience in the fence industry spans more than half a century! We're a full-service fence sales and fence installation business in the Chicagoland area, and we're dedicated to providing creative and affordable solutions that address our clients' needs and fulfill their requests. Our staff offers exceptional customer service, striving to exceed your expectations throughout the fence buying and fence installation process. Paramount Fence is a member of the American Fence Association and the Better Business Bureau. For more information on how we can help you find the right fence, call us at 630-239-2714 or contact us through our website.