Skip to Content
Your Guide to Year-Round Fence Installation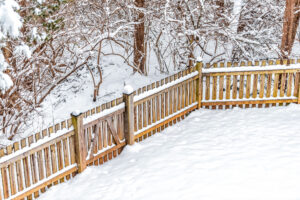 Building a fence is a great way to improve the aesthetic appeal of your home and protect your property at the same time. There are certain seasons when fencing companies are in higher demand. Knowing the best time of year to install a fence can help you possibly save on installation costs.
Each season has its advantages or disadvantages for scheduling the installation of your new fence:
Winter is cold no matter where you live, but that is no reason to delay your fence installation. Snow acts like an insulator for the ground and we dig below the frost line, so winter installation is a great option! Landscaping in the winter is much easier because there are fewer plants, weeds, and other foliage to contend with. When there is less natural clutter, it is easier for a fencing company to plan and install your fence accurately. The work will also be completed much quicker as there is less foliage to clear away before installing the fence. Having an estimate in the winter and moving forward with Paramount Fence prior to spring typically means that you will be scheduled for installation prior to summer.
Summers are hot! It may seem like a good idea to get a new fence in the middle of summer when pool season is going on. However, many others may be thinking the same thing and there may be delays in getting an appointment with your fencing company.
Springtime is a great time to get your fence installed, before the busy summer season. When you start the process in late winter or very early in the spring, your fence could be installed and ready for you to enjoy when summer comes.
Fall is another great time to install your fence. The kids are back in school and out of the way, and the fence companies are done with the summer rush.
Just like with any other product, there are seasons when homeowners can possibly get a better rate on their fence installation, but no matter the time of year, we can provide expert installation to meet your fencing needs.
When you are ready to install a new fence, or for any questions or concerns about fencing, check with the professionals at Paramount Fence, Inc . We are a locally owned and operated fence company in the Fox Valley area servicing the Chicagoland Suburbs. We understand that each client is unique, and our fencing experts will work with you to ensure that you purchase a fence that satisfies your needs for years to come. We strive to provide excellent customer service, which is why we are members of the American Fence Association and the Better Business Bureau (BBB). In fact, we have one of the highest customer service ratings with the BBB in the area. For more information, visit our website or contact us at 630-239-2714.