Skip to Content
Enhance Your Pool Area With These Fence Ideas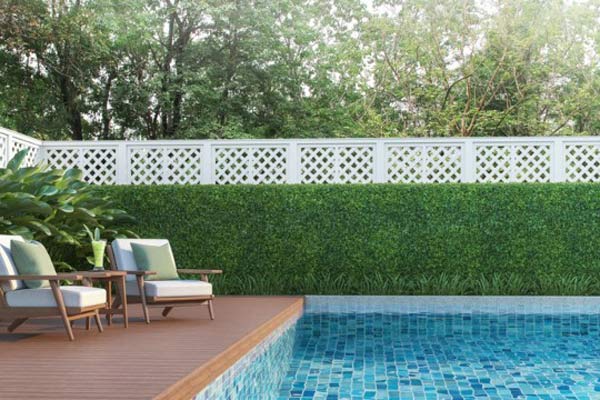 If you're installing a pool on your property, you'll need to install a fence to protect it. In most areas, there are specific regulations that determine the required height of the fence, and how it must be secured to keep children from accidentally accessing the pool on their own. The type of fence you choose, though, doesn't need to be simply utilitarian. You can secure your pool for the sake of safety without giving up any aesthetic appeal.
You could choose a wooden fence, for its classic appeal. Make sure you know the minimum height requirement for your area, but be aware that there may be a maximum height limit as well. When installing a wood fence, be sure the pickets are close enough together to provide appropriate security and protection. And also confirm the gate requirements for access to the pool area.
A glass fence is a stylish but expensive option. Made of thick sheets of safety glass supported by metal posts, glass fences are expensive to install, and they do require a fair amount of upkeep. Regular cleaning is necessary to keep the glass clear.
If you're looking for a low maintenance option, a vinyl fence may be the way to go. Vinyl fences are relatively inexpensive and extremely durable. They come in a wide range of styles and are easy to clean. The only drawback is hat they can be vulnerable to wind damage. If you live in an area with frequent high winds, a vinyl fence might not be the best choice for you.
Metal fences can be utilitarian or elegant. Chain link is inexpensive and sturdy, while ornamental metal fences can be beautiful and sophisticated. As with wooden fences, you'll need to pay attention to the height and distance between pickets.
You might consider a brick or stone wall. This option offers privacy while creating a beautiful look. It can be expensive, but you might be able to install a mix of fence and wall to bring down the cost. A brick wall with ornamental iron gates, for instance, makes for an extremely appealing look.
No matter what style of fencing you choose, when it's time for a new fence, it's time to call Paramount Fence for professional installation. A full-service fence sales and installation business in the Chicagoland area, with more than half a century of combined experience, we're dedicated to providing creative and affordable solutions that address our clients' needs and fulfill their requests. Paramount Fence is a member of the American Fence Association and a registered member of the Better Business Bureau. For more information, call us at 630-239-2714 or contact us through our website.