Skip to Content
How Freezing Temperatures Can Impact Your Fence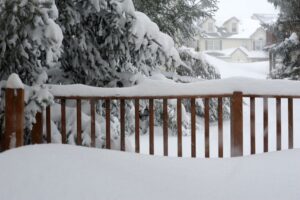 You know that winter can be a harsh time of year, as plunging temps prompt us to crank up our heaters and freezing wind chaps our faces and hands. Have you ever considered, though, how freezing temps can affect your fence? While it's true that the heat and bright sun of summer can cause damage and discoloration, winter weather can be particularly hard on a fence, for several reasons.
Winter weather brings damaging moisture. Snow and other kinds of precipitation can cause major harm to your fence. Water freezing in the grooves of a wooden fence, for instance, can cause the wood to expand, crack, and break. Moist weather conditions also take a toll on paint and can cause a fence to deteriorate more quickly than it should.
Metal fences can sometimes rust. While winter weather is particularly punishing to wood fences, damaged wood is not the only problem moisture causes. Sometimes your metal fences can begin to rust in winter, especially if they have a protective coating that's been worn away by friction from use.
Winter causes the soil to shift around your fence. Ground gets wet, freezes, and shifts in the winter. This means the soil around your fence posts can move and damage the fence's foundation. Once the base of the fence is unstable, it's easy for strong winds to knock your fence down and break it.
Temperature fluctuations are not kind to wooden fences. It's likely that some days in the winter will see freezing temperatures. If you think about it, though, you'll realize that even if it seems like every day is frozen, those extreme temperatures aren't really a daily occurrence. Some days will be sunny and, while not warm, much more temperate than the deepest freeze. In fact, it's possible for the temperature to shift by about 20 to 30 degrees from day to day in the winter. What does that mean for your fence? Those dramatically changing temperatures can cause the wood in your fence to warp. This is unattractive, but it's also unpractical, and probably means you're going to have to call a fencing contractor to put in a new fence sooner than later.
Winter damage can sometimes be repaired, but when you're ready for a total fence replacement, call Paramount Fence for professional installation. We're a full-service fence sales and installation business in the Chicagoland area, proudly serving the following counties in Illinois: Kane, DuPage, Kendall, DeKalb, McHenry, and parts of Cook, Will and Lake. With more than half a century of combined experience, we're dedicated to providing creative and affordable solutions that address our clients' needs and fulfill their requests. Paramount Fence is a member of the American Fence Association and a registered member of the Better Business Bureau. For more information, call us at 630.239.2714 or contact us through our website.