Skip to Content
Why a New Fence During the Winter is the Smartest Purchasing Decision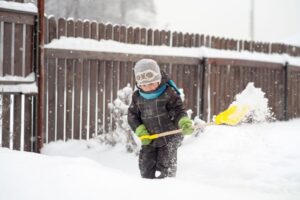 In winter, you might not give your fence too much thought. After all, winter is hardly prime time for backyard hangouts. Something you might want to consider this winter, though, is having a new fence installed. Buying a fence in winter is a smart move, and we can give you several reasons why.
The typical fencing company isn't as busy in winter. In the spring, when everyone is clamoring to have a new fence installed, you may have trouble getting onto a fencing contractor's calendar. If you'd like to be able to enjoy a new fence in the springtime, having a fence installed over the winter months is the smartest move to make. Then while everyone else is scrambling to get their new fences installed, you'll be relaxing in your back yard.
It will be easier for your fencing contractor to work around your landscaping. In the winter, most of your landscaping will be dormant. This is great news if you'd like to have a fence installed, because the plants are less likely to be damaged. What's more, because your fencing contractor doesn't have to be as careful about the plants, your fence can be installed more quickly.
A privacy fence is great to have in winter. When the shrubs and trees are dormant, your back yard is exposed to the neighbors. Buying a fence before winter completely strips the foliage from your landscaping means you'll still have a private back yard you can enjoy, even when the trees are bare.
A new fence will be better able to stand up to the elements. If your fence is already showing its age, it's smart to replace it this winter. Winter brings freezing temps that can warp wood and moisture that can cause it to crack and break before spring. Installing a new fence in winter means having a fence that will stand up to the elements, keeping your back yard attractive and secure.
In the winter, fence installation won't cramp your style. If you have your fence installed in the spring, summer, or fall, you won't be able to enjoy your back yard while the fencing company works. Installing a fence in winter won't prevent you from having fun or entertaining in your back yard.
No matter the season, when you're ready for a new fence, call Paramount Fence for professional installation. We're a full-service fence sales and installation business in the Chicagoland area, proudly serving the following counties in Illinois: Kane, DuPage, Kendall, DeKalb, McHenry, and parts of Cook, Will and Lake. With more than half a century of combined experience, we're dedicated to providing creative and affordable solutions that address our clients' needs and fulfill their requests. Paramount Fence is a member of the American Fence Association and a registered member of the Better Business Bureau. For more information, call us at 630.239.2714 or contact us through our website.