Skip to Content
Spruce Up Your Landscape with Ornamental Aluminum Fences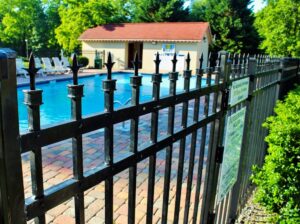 A fence is a good way to mark the border of your property, provide security, and keep kids and pets safe. One of the main reasons for getting a fence, though, is to provide curb appeal. You can really improve your look of your property with the right landscape fencing.
The wonderful thing about fences is that they come in an amazing variety of styles and configurations. Landscape fences can be long and sweeping or small and box-like, tall or short, a prominent landscaping feature or something that disappears into the background. You just have to consider what will look and function best in the overall context of your yard.
Landscape fencing ideas are plentiful, in part because of all the options available. There's the traditional wood fence, but there are also vinyl fences that mimic the look of wood but require much less maintenance. The wrought iron look is now much less expensive and labor-intensive, because today's ornamental metal fencing is made with aluminum or steel.
Ornamental aluminum fences are perhaps the perfect option when you're looking to aesthetically elevate your landscaping. They're visually pleasing, but they're also extremely functional, requiring very little maintenance and providing security as well as curb appeal. They're far less expensive than traditional wrought iron, and don't require as much upkeep. They stand up to the weather, can be built in a variety of styles and painted in a wide array of colors, and don't obscure your view. If built to the correct specifications, an ornamental fence can even protect your pool. Best of all, ornamental fences with all of these benefits can also be designed to be compatible with your existing landscaping and architecture.
You can also install ornamental fencing with a focus on security and technology. There are video cameras, buzzers, and intercoms, to add a level of security to your home. If your intruders are likely to be deer, your ornamental fence can help keep them out as well. With innovative new progress on fence design happening all the time, there are even ways to make a fence secure without having to put up an extremely tall fence.
When you're ready for a new fence, call Paramount Fence for professional installation. We're a full-service fence sales and installation business in the Chicagoland area, proudly serving the following counties in Illinois: Kane, DuPage, Kendall, DeKalb, McHenry, and parts of Cook, Will and Lake. With more than half a century of combined experience, we're dedicated to providing creative and affordable solutions that address our clients' needs and fulfill their requests. Paramount Fence is a member of the American Fence Association and a registered member of the Better Business Bureau. For more information, call us at 630.239.2714 or contact us through our website.